Random Notes (2004)

---
December 5, 2004

The annual idiocy known as the BCS claimed another couple of victims this season. The Auburn Tigers, despite winning all twelve of their games, will not have a chance to play for a championship. Meanwhile, the Calfornia Bears lost their spot in the Rose Bowl because they won by only ten points on the road in their final game of the season. Auburn, USC and Oklahoma all finished the season undefeated but only two of the three can play for a title because the NCAA has so far refused to add even one extra game to decide a true champion. All three teams have a legitimate argument for being in the BCS Championship Game. The situation was going to be unfair, no matter which team was left out. What happened to the Cal Bears was even more of a travesty. Texas jumped Cal in the final BCS standings and grabbed the Rose Bowl spot because Cal did not beat Southern Mississippi by enough on Saturday night according to the BCS computers and the coaches who voted in the ESPN/USA Today poll. Cal Head Coach Jeff Tedford had a chance to extend the final margin of victory from 10 points to 17 points with 20 seconds left in Saturday's game. He did the classy thing and asked his quarterback to take a knee and run out the clock. Tedford's classy move may have cost his school a trip to the Rose Bowl and several million dollars. It's not that Texas is any less worthy than Cal. Both teams were 10-1 and only lost to a team in the BCS Championship Game so Texas has no less of a reason to claim the spot than Cal. The problem is that the margin of victory in Cal's game with Southern Miss mattered as much as it did. The BCS dodged another bullet when Pittsburgh beat South Florida to take the Big East's automatic bid and a spot in the Fiesta Bowl. At 8-3, Pittsburgh doesn't really deserve a BCS spot but at least they are in the top 25. Had Pitt lost the season finale, 6-5 Syracuse (a team ranked 90th in the nation in total defense and 104th in passing offense) would have been in the Fiesta Bowl.

It's time again for my NCAA Football Playoff Proposal. When I put together my first NCAA playoff proposal in 1999, I really believed that college football was on the path to adopting a playoff system. I could not have been more wrong. The NCAA, the men in the funny-colored sportcoats adorned with their bowl's logo and the university presidents of the top dozen or so power football schools will never allow such a sensible thing as a Division 1-A college football playoff to take place. The aforementioned groups who control college football are like activist judges. They make decisions that suit their own needs even though those decisions run contrary to the desires of 90% of the people involved. Anyway, if college football was in fact like every other sports league on the planet (including all other NCAA football levels, beer league softball, The World Series of Poker and even the WNBA), the playoffs might look a little something like this: 2004 College Football Playoff Proposal.

The Patriots won again this week to improve their record to 11-1. The Pats never cease to amaze me. Even with the injuries at cornerback they have continued to win rather easily. Here are some of the most amazing numbers:
The Patriots are 26-1 in their last 27 games.
Since losing to the Rams in their tenth game of 2001, the Patriots are 46-10 overall and 25-3 at home.
The Pats are 25-2 over the past three years after November 20th.
Tom Brady is 51-13 in his career as a starter. He is 7-0 in overtime games and 6-0 in the playoffs.
The Patriots have scored first in 20 consecutive games (17 in regular season).

I don't think I have ever witnessed a bigger gap between the best team in an NFL conference and the rest of the pack as I have this year in the NFC. The Packers, arguably the second best team in the NFC, lost to the Eagles 47-17 on Sunday and the game really wasn't as close as the score indicates. Meanwhile, the Falcons, the team with the second best record in the NFC, lost to the 4-7 Bucs by a score of 27-0. Minnesota you say? They lost by 10 to the Chad Hutchinson-led Bears on Sunday. They may have to airlift Andy Reid and the coaching staff right out of Lincoln Financial Field if the Eagles lose in the NFC playoffs this year.

The AFC playoffs could be very interesting. If Law and Poole return and if the rest of the team can stay relatively healthy, the Patriots will be the favorites to return to the Superbowl but the Steelers and Colts will make things very interesting. New England has contained Indy in the past, but Manning and Company have taken the offense to a level over the past couple of months that I have not seen in a long time, if ever. Whether or not Pittsburgh maintains the #1 seed in the AFC is the bigger story for the Patriots (Pittsburgh wins the tiebreaker with New England). If the Patriots can move back into the #1 spot, not only would Pittsburgh have to play in Foxboro should the teams meet in the AFC Championship Game but New England would likely play San Diego or a wild card team in the Divisional Playoff round. San Diego visits Indy on December 26th with the winner almost certainly becoming the #3 seed in the AFC. Clearly, the Colts will be a fairly heavy favorite in that game.

First Barry Pepper played Roger Maris in "61*". Now he's going to be portraying Dale Earnhardt in the ESPN movie "3". I fully expect to see "99, the Wayne Gretzky Story" starring Barry Pepper by the end of next year. If he plays Jackie Robinson in a movie called "42", we will know for sure that Pepper has been typecast.

I am disappointed that the Red Sox actually increased their offer to Pedro after he visited with Steinbrenner. I would have reduced the offer by a million a year just for entertaining the thought of playing for the Yankees. I am grateful for everything that Pedro Martinez has done for the Sox and he will always be one of my all time favorites. However, a part of me wants Pedro to sign with the Mets. I can't imagine that tying up $40 million over three years for a guy whose arm could go at any time is a good investment for the Red Sox. Even if Pedro's arm does not fall apart, he is becoming less durable by the day. He's about a 100 pitch per game guy now. I can't imagine him being effective for more than 85-90 pitches by the time the proposed contract ends in 2007. At the same time, I am sickened by the prospect of Pedro pitching for the Yankees. It seemed fitting for Boggs and Clemens. I'd hate to see Pedro in pinstripes.

The negotiations with Jason Varitek have also been more difficult than I expected. It would be very difficult for the Red Sox to pull the trigger on a five year big money contract for a catcher who will be 33 years old next April. Varitek is approaching the age where the abilities of most catchers start to diminish. Signing Varitek for five years is an enormous risk but so is letting him go. Hopefully, the two sides can work out a compromise because the Red Sox would simply not be the Red Sox without their spiritual leader.




November 24, 2004

I couldn't let the Pistons/Pacers/Detroit Fans riot pass without compiling an all new Idiot List. The only problem was limiting the list to only ten (which is why I've added a Dishonorable Mention Category). Here's the list:

10
Big Guy in the Gray Shirt

The rumor is that the enormous man seated to the right of Artest's victim in the stands that was punching Pacers from behind is Ben Wallace's brother. I have not seen any official report as to whether or not that is true. Whoever he is, he checks in at #10 on the Indiana/Detroit Fight Idiot List. He may have avoided making the list had he actually stood toe to toe with the Pacer players rather than repeatedly sucker punching them from behind. 9
Jim Gray

I'm not sure if Jim Gray deserves to be called an idiot (at least not this time), but I gave him a spot in the top ten for his post-game/post-brawl report from The Palace. Even though the fight had been over for at least 30 minutes, Gray was a quivering mess as he recounted the events for ESPN News. Gray has been in the business for a long time and it's not like he was involved in the fight. In fact, he was about the only person there that was not punched by one of the Pacers. How this brawl caused Gray to become the emotional equivalent of a teenage girl whose prom date didn't show up is a great mystery. 8
Fans Throwing Beer and Water

The #8 slot on the Idiot List goes to all of the fans who threw beer, water and popcorn on top of the Pacers as they left the floor. It is simply amazing that so many people were doing it. Hopefully, all of those people were captured on camera and will not be allowed back in The Palace. I guess that's just Detroit being Detroit. You can't spell Detroit without r-i-o-t. 7
Ben Wallace

Ben Wallace gets the #7 slot in this version of the Idiot List for starting the whole incident with a shove to Artest's face. It's not so much the shove that I have a problem with - Artest deserved that much. It's the fact that Wallace continued after him. Artest, the coward that he is, wanted no part of Wallace and scurried away but Big Ben wouldn't let it go. 6
Jermaine O'Neal

The only player who received an excessive suspension, in my opinion, was Jermaine O'Neal. As far as I could tell, O'Neal's only punch was directed at a fan that ran out on the floor and challenged Artest (more on that guy in #5). I actually give O'Neal credit for connecting. As we all know, NBA players are the worst fighters on the planet. My estimate is that about 5% of punches thrown by NBA players actually land on the target. O'Neal certainly deserved a suspension, but the commish should have been more lenient because the fan that Jermaine whacked came onto the floor. However, O'Neal deserves a spot on the Idiot List because his punch was so unneccesary. The guy that Jermaine smacked was roughly two feet shorter (though he and O'Neal may weigh the same). 5
Fat Idiots that Ran on the Court

Next on the list are the two fat slobs in the white Pistons jerseys that ran out onto the court to challenge Ron Artest and the Pacers. How stupid are these guys? Both men (if you can call them men) received shots to the face, courtesy of Artest and O'Neal, though Artest's shot was a glancing blow. Hopefully, the morons will face criminal charges. More importantly, I hope no wacko judge allows the two fatties to sue anyone. If a person runs out onto the playing surface at a live sporting event, he deserves whatever he gets. 4
Stephen Jackson

Apparently, Ron Artest is Stephen Jackson's role model because he followed Artest into the stands and started punching anyone in his path, regardless of whether or not that fan was guilty of anything. In fact, it could be argued that Jackson's behavior was even worse than Artest's because Jackson (a) was not provoked as Artest was and (b) seemed to be on his way to doing more damage if not for a teammate who held him back. If there was ever any doubt that Jackson is a first class idiot, it disappeared on Friday night. 3
Ron Artest

Had Ron Artest gone into the stands to take the down the guy that actually threw the beer on him, I would have a much different opinion of the situation. Artest deserves every bit of his nearly full season suspension because he did not know who threw the beer and randomly attacked the most convenient fan in the area. That happened to be a scrawny, spectacled fan who was actually holding a drink (way to put that St. John's education to good use, Ron). Artest ran away when the gigantic Ben Wallace wanted to fight but he was more than willing to go after a guy that probably weighs 120 pounds soaking wet. Artest also deserves the suspension because he is a ticking time bomb. He's been suspended ten times in five years. If he doesn't get some professional help, he may do this, or something worse, in the future. Even now, he is not apologetic. He's basically a seven year old child trapped in the body of an immensely talented 25 year old man. 2
John Green

America loves to turn idiots into heroes (just look at Michael Moore). The latest person to be rewarded for their malfeasance is John Green, the man who sparked Artest's mad dash into the stands by throwing a beer in the NBA star's face. Green appeared on television several times this week with his sleazy lawyer, asking for sympathy and wondering why the Pistons want to ban him from The Palace for life. Green hinted that he might be looking to sue someone (unreal!). More interestingly, it turns out that tossing beer is about the most innocent thing Green has ever done. He's got a criminal record that includes carrying a concealed weapon, assault and drunken driving as recently as last year [ LINK ]. Sadly, this pile of scum was not locked up long ago. The question is: will Green be charged or will he be let off the hook because so many people think the criminal acts against well paid athletes (especially those who play for division rivals) are not really worth pursuing? 1
Unknown Chair Thrower

There was a lot of punching, grabbing and tossing of non-harmful items on Friday night. It's possible that someone could have been seriously hurt in the melee which is why Artest, Jackson, Mr Gray Shirt and John Green should be charged for their roles. However, flying fists are one thing. Tossing a chair is quite another. The last time I checked the police were trying to track down the person who tossed the chair during Friday's altercation, hitting a 67 year old man in the head. This was the most serious of many serious acts of idiocy. I am crossing my fingers that the police are able to locate this dirtbag and toss him in cell for a while (Frank Francisco has an alibi so he's in the clear). Dishonorable Mention:
ESPN Shootaround Panel - I was dumbfounded by how thoroughly and completely the ESPN crew excused Artest and the other players who went into the stands. Three of the four argued that Artest did nothing wrong.
Pistons CEO Tom Wilson - Wilson tried to put all of the blame on the Pacers as if his frenzied fans and lax security had nothing to do with it.
Larry Bird - I would think that Bird of all people would apologize for Artest's actions, not defend him so furiously. How disappointing.
Larry Brown and Rick Carlyle - Why were Wallace and Artest still in the game? The Pacers were up by 15 with under a minute left.
Anyone who pays John Green to appear on TV - The media has turned John Green into a celebrity. Green will probably write a book and get his own TV show. The media loves honoring criminals and idiots. Because Green is both, he is a dream come true.
More Notes on the Brawl
Friday's brawl was shocking to watch, but it is not at all surprising that something like this happened. In fact, it was inevitable. In professional sports, the players have been getting more obnoxious over time and so have the fans. Overinflated egos are a problem in all sports, particularly in the NBA where 18 and 19 year olds are treated as superstars the first day on the job. By contrast, most baseball players spend a few years as nobodies in the minor leagues and football players have a minimum of three years of college to mature (though that appears to be changing). Poor fan behavior is also on the rise, largely because fans are seldom penalized for their boorish behavior. Case in point are the two shirtless drunks (a father and son team no less) who stormed from the Comiskey Park stands to pound on Royals first base coach Tom Gamboa. Gamboa suffered a partial loss of hearing in one ear because of the incident, but neither perpetrator was given a jail sentence. The only fan that seems to have suffered for his actions is Steve Bartman, who did nothing wrong.



Most of the people on the Idiot List seem to be pointing fingers at one another rather than taking the blame that they deserve. The vile John Green will probably sue either the Pacers or the Pistons despite the fact that he started the riot. The two tubs of lard that stormed the court will probably sue the Pacers. The NBA Players Union is already challenging the suspensions. There is at least one victim in the entire debacle and that is the guy that Artest first attacked when he jumped into the stands. That man deserves a big settlement and I hope he gets it.



One thing that really bothers me is that the Detroit players and fans caused most of the problems the other night, yet the Pistons will actually benefit from Friday night's events. Ben Wallace started the on court problems when he shoved Artest in the face and then stormed after him. Things seemed to have settled down then Green tossed the cup which started round two. After the scuffle in the stands Artest returned to the court and again things appeared to be calming down when two idiot Piston fans charged the court. This melee was essentially three separate incidents and each was instigated by a Detroit player or fan. The Pistons and their fans will be rewarded for their misconduct because three key Pacers will miss a total of 128 games. The Pistons are essentially being handed the division title. It would be nice to see the Commissioner penalize the Pistons organization for their rather huge role in this fiasco. I would take away five home games (change them to road games) and suspend beer sales at The Palace for a month. I rooted for the Pistons for the first time in my entire life when they played the Lakers in the NBA Finals last year. I won't make that mistake again.



Election Special - November 5, 2004


After more than a year of bickering, the 2004 Presidential Election is finally over. As expected, there was a huge turnout. It was great news that more people were involved in this year's election, even if many of the under 25 voters can't name the Vice President or find America on a world map. The best line I heard from a voter on Tuesday came from a woman in Ohio who said something along the lines of "I have to vote. It's the only way to make the commercials stop." I can't imagine what it must have been like to be in Ohio or Florida this year.

Based on historical averages, the election was fairly close. Based on the 2000 results and expectations, it really wasn't. For the first time since 1992, people really seemed to care who won. Despite my couch sores from the baseball playoffs, I watched about seven hours of election night coverage, flipping between FOX News, MSNBC and CNN.
MSNBC probably had the best coverage of the night. Chris Matthews was uncharacteristically subdued. This was a far cry from the week before when Matthews doted all over Bill Clinton upon the former President's first return to public life following his heart surgery. Matthews compared Clinton to Lazarus coming out of the tomb and commented "Ooooh, he's sooo thin." He sounded like a teenage girl seeing Justin Timberlake for the first time. It was priceless.



FOX's coverage provided some of the best comedy of the night. Brit Hume simply couldn't subtract to get the actual difference in votes between Bush and Kerry. He always seemed to be off by either 10,000 or 100,000. FOX frequently cut away from the panel to visit with their poll specialist (whose name now escapes me). This man seemed to be stifling belches and coughs all night long. Then there was the impossibly annoying-voiced Susan Estrich who repeatedly predicted Kerry comebacks. The LA Clippers should use her this season when they fall ten games behind in the playoff race.



CNN easily won the battle of the graphics, but little else. It was amusing late in the night when CNN absolutely refused to give Ohio to Bush. Even when the President moved ahead by 150,000 votes with 99% of precints reporting, CNN dubbed Ohio "Too Close to Call." In fact, I think they still have the 2000 election as "Too Close to Call." I was also worried about Larry King. He was still there at 4:00 am EST and I assumed that he needed to back in the coffin before the first sunlight.



I didn't check in with CBS, but I assume that Dan Rather was sobbing uncontrollably by the end of the night.

I give John Kerry credit for not challenging the 150,000 vote difference in Ohio. Many of his supporters wanted him to dispatch the lawyers (all I can think of is the flying monkeys from the Wizard of Oz). Kerry and Edwards should be credited for not entertaining the sore loserism and grassy knoll theories that we've seen in the past. That's a good lesson for a country whose citizens seem to fire up a lawsuit every time something doesn't go their way.

Within a day of the election, Susan Sarandon was complaining that the election was rigged. She was babbling something about 3,000 miscounted votes in Ohio. Apparently, she didn't get the news that her guy lost that state by 150,000 and the country by almost four million. Sarandon's comments are the equivalent of saying that the Patriots lost Superbowl XX (Bears 46 Patriots 10) because of a bogus holding penalty.

Now that John Kerry has lost the election, maybe he can attempt to become a real Red Sox fan rather than simply pretending to be one for political gain. I still don't know who Kerry was talking about when he referred to "Manny Ortiz" but whoever he is, he sounds like a heck of a hitter.

Apparently, several Hollywood actors said that they would leave the country if Bush won the election. All I can say is, "do you need a ride to the airport?" John Kerry may have damaged his chances of winning the election by aligning himself with the Hollywood and music industry elites. It's one thing to appear with the mild-mannered and patriotic Bruce Springsteen. It's quite another to align oneself with the likes of Whoopi "Zero Class" Goldberg, Cameron "Cradle Robber" Diaz, Susan "I'm his wife not his mother" Sarandon, Sean "Saddam used me as a prop" Penn, Alec "Repuplican politicians should be stoned to death" Baldwin and Sean "P Dopey" Combs. I heard an interview where Combs claimed to be a "disenfranchised voter." It quickly became obvious that he didn't know what the word "disenfranchised" meant.

I would have paid anything to be in the room with billionaire George Soros as the election results rolled in. Soros spent something on the order of $25 million to defeat President Bush in this election. As a Bush supporter, I don't take any pleasure in the disappointment of Kerry supporters, but I do take enormous pleasure in the frustration of arrogant billionaire elites like Soros who think they are more important than the voters. Soros, in case you don't know, was born in Hungary, moved to America when he was 26, made billions thanks to the American way and now spends every waking hour bashing our country's foreign policy. Soros would probably be earning $1 an hour in some Hungarian slum if not for America. "Despicable ingrate" is the best phrase that I can come up with.

Michael Moore might claim otherwise, but he must be the happiest guy in the world right now. The Bush victory gives Moore the opporuntity for more books, more movies, more lies and more cheeseburgers over the next four years. I'm fine with the fact that Michael Moore hates President Bush. Those people are a dime a dozen. What separates Moore from the rest, other than his ability to completely ingore factual information, is his complete disdain for America, the American people and the US Armed Forces (July 18th Notes on Moore). In fact, Osama Bin Laden's speech last week sounded very much like a Michael Moore speech. I thought I would give you a chance to see if you could tell the difference. Below are seven quotes from either Moore or Bin Laden. See if you can guess which America-hater they came from. The answers are at the bottom of this page.
"Despite entering the fourth year after September 11, Bush is still deceiving you and hiding the truth from you."



"[George H. W. Bush] passed on tyranny and oppression to his son, and they called it the Patriot Act, under the pretext of fighting terror."



"The Iraqis who have risen up against the occupation are not 'insurgents' .. They are the Revolution .. and their numbers will grow, and they will win."



"It never occurred to us that the commander in chief .. would leave 50,000 citizens in the two towers to face these horrors alone .. because he thought listening to a child discussing her goat .."



"[Americans] must now sacrifice their children until enough blood has been let that maybe, just maybe .. the Iraqi people will forgive [America]."



"[George H. W. Bush] did well placing his sons as governors and did not forget to pass on the expertise in fraud .. to Florida to use it in critical moments."



"The motivation for war is simple. The U.S. government started the war with Iraq in order to make it easy for U.S. corporations to do business in other countries. They intend to use cheap labor in those countries, which will make Americans rich."

The only thing worse than the Hollywood elites is the smarmy Europeans. One viewpoint that I absolutely cannot respect is the one which states that America's reputation in the world needs to be restored. America does not need to apologize to the world (I am quite comfortable calling the French and Germans "EuroTrash") for removing from a power one of the most prolific mass murderers since Hitler. Americans have the right to question whether or not American troops should go to war. Whiny European or North American countries consumed by jealousy who are not commiting troops to the mission have absolutely no right to criticize. If they want to side with a dictator, that is their business, but they should keep their cowardly, corrupt mouths shut. If they say anything, it should be a thank you to America for putting an end to the Hussein Family's reign or terror. The United Nations, specifically the French, should be apologizing to the Iraqi people for helping Saddam rip them off using the Oil for Food Program.

The headline on the front page of Thursday's edition of Britain's Daily Mirror newspaper read "How can 59,054,087 people be so DUMB?" Yes, England, we Americans are dumb. So dumb that our government's leadership includes a Queen. Oh wait, that's you. Now I've got it. We're so dumb that we cannot solve the problem of dental hygiene. No, that's you again. Give me time and I'll figure it out. I'm DUMB after all. The headline has proven to be great publicity for the magazine. People around the globe are contacting the Daily Mirror and asking for a copy of the cover including some Americans who wouldn't know individual or national pride if it hit them in the face.

If there is a third group, in addition to the Hollywood elites and the EuroTrash, that I'd love to shut out of the American public's political discussion over the next four years, it is the Ivy League and MIT professors. I am so disgusted by these "intellectuals" poisoning the minds of American college students. My guess is that seven out of ten Ivy League professors have a more favorable opinion of Adolf Hitler than George W. Bush (this isn't even a joke). It's only getting worse. Over the past three years, there has probably been more anti-American sentiment coming out of Columbia University than Tehran.

I read a post from a guy on the ESPN Red Sox Message Board who was complaining because Curt Schilling endorsed President Bush. He claimed that Schilling had "ruined" what he had "waited his whole life for" (the Red Sox World Series Championship). I'm sure this whiny loser wasn't bothered at all when John Henry, Tom Werner and Theo Epstein publicly backed John Kerry. I myself couldn't care less who these three men support for President. They are a great management team who delivered a World Series Championship to Boston and I will always be grateful. If Henry, Werner and Epstein want to act as toadies for Kerry, it won't bother me one bit as long as they continue building winning baseball teams. The wimp on the ESPN Message Board should extend the same courtesy to Curt Schilling who put his career on the line to win a World Series.

QUIZ ANSWERS: 1. Bin Laden, 2. Bin Laden, 3. Moore, 4. Bin Laden, 5. Moore, 6. Bin Laden, 7. Moore
September 27, 2004


Terry Francona probably managed the Red Sox right out of a chance to win the American League East last week. On Thursday night, he threw Byun-Hyung Kim into a two-run game in the ninth inning against the Orioles. Kim promptly gave up two runs. The Sox rallied, but lost by … you guessed it … two runs. On Friday, Francona left a gassed Pedro Martinez in the game four batters into the eighth inning. This was long enough for Pedro to give up the tying and go-ahead (and eventual winning) runs. The game reminded me of Game Seven of last year's ALCS. Not only was Pedro left in the game too long, but the final Yankee run against Pedro scored on a cheap bloop hit (last year, it was the tying run). Francona's bad managing doesn't compare to Grady's atrocious managing but it still makes me wonder if the Sox can win a championship with Francona at the helm.

The good news is that the two wins over the weekend put the Sox on the brink of clinching the AL Wild Card. Clearly, winning the division would have given the Sox a tremendous edge in the playoffs. Boston and New York have the best home records in the American League but are roughly .500 teams on the road. Last weekend in New York, the Yankees outscored Boston by 19 runs in the three games. This past weekend, Boston outscored New York by 12 runs over the three games. The Wild Card could have a silver lining, however, if the AL West winner (presumably the A's) can finish with a better record than the Twins. The team with the second best record among AL division winners will play the Wild Card team. Given a choice, I think every single person in the Red Sox organization would rather play the A's than the Twins. Dating back to Game 3 of last year's AL Division Series, the Red Sox are 11-1 against the A's including a three game sweep in Oakland this month in which the Sox beat the A's by at least five runs in every game. The Sox, on the other hand, are 2-4 against Minnesota. More importantly, the team facing Minnesota in the ALDS could see Johan Santana, the best pitcher on the planet since June, two times in a five game series. Winning the division would be great, but I think I would rather start on the road in Oakland than have home field advantage against the Twins.

Very little has gone right for the Red Sox and Cubs this season, but both teams are leading the Wild Card heading into the final week of the season. Both teams are under .500 in one-run games (Boston 16-17, Chicago 19-26) and have suffered a great deal because of injuries (the Cubs to a larger degree) but have survived to this point and may get a second chance to make the dream World Series matchup a reality. A Cubs-Red Sox World Series would be even more intriguing now that Nomar is playing for the Northsiders.

Though I haven't seen a schedule, my assumption is that the first two games of the ALDS will be played on Tuesday, October 5th and Wednesday, October 6th. In 2002, the AL started on Tuesday and Wednesday while the NL played one series that started Tuesday/Thursday and another Wednesday/Thursday. In 2003, the leagues reversed that schedule. I don't see any reason why we wouldn't be back on the 2002 schedule in 2004. The fact that the ALDS begins on Tuesday probably means that Pedro Martinez will start Game One. If Francona does the smart thing (don't hold your breath) Curt Schilling will be moved up a day in the rotation to pitch on Friday this week, thus allowing Curt to have his normal four days of rest before his first playoff start. Pedro would be pitching with an extra day of rest which should benefit him greatly. My preference, and probably the preference of most Red Sox fans, would be to have Schilling pitching in Game One (and therefore Game Five, if necessary), but making that switch would mean either (a) having Schilling pitch Game One on three days rest OR (b) not pitching Schilling at all this week AND (c) running the risk of Pedro Martinez having a temper tantrum for being bypassed in the rotation. In subsequent rounds, it shouldn't matter because both pitchers would be slated to start twice in a seven game series unless Francona decides to use Schilling on three days rest. This is certainly a possibility, especially if the Sox #3 and #4 starters continue to have problems.

Whether to go with Martinez or Schilling in Game One is probably less taxing for the manager than deciding who will pitch in Games Three and Four. Bronson Arroyo has been the Red Sox third best pitcher during the second half of the season, but Tim Wakefield and Derek Lowe are both experienced and pitched well in the postseason last year. Wakefield was tremendous against the Yankees. My guess is that Lowe will start Game Three and Wakefield will start Game Four, but that Francona won't hesitate to go to Arroyo later in the playoffs if either Lowe or Wakefield continues to struggle.

During the Boston College-Wake Forest telecast on Saturday, announcer Pam Ward mentioned, following a bad call in BC's favor, that the officiating crew was from the Big East Conference. I guess Ward is under the very false impression that having Big East officials on the field is a good thing for BC.

If someone ever puts together a book of obscure football records, BC Head Coach Tom O'Brien will be the runaway record holder for calling the most punts on 4th down and less than five yards to go inside the opponent's 40-yard-line.

There was a fairly interesting 60 Minutes piece (yes, I know that's hard to believe) last week about Bill Belichick and Head Coach John Fox of the Carolina Panthers. I watched the show half expecting Dan Rather to come on and present a memo claiming that the Patriots had in fact not won the Superbowl last season.

The Patriots are now one win away from tying the NFL record for consecutive wins (including the Playoffs) with 18. The Pats could break the record on October 10th against Miami, one of the teams that currently holds the record. The 1972-73 Dolphins, the 1989-90 49ers, the 1941-42 Bears and the 1933-34 Bears all won 18 consecutive games.
September 6, 2004


The Patriots will put their 15 game winning streak on the line Thursday night in Foxboro against the Colts. The NFL opener features the two teams that battled for the AFC Championship last January. According to Vegas, the Patriots are favorites to repeat as Superbowl Champs and many of the NFL magazines agree. The fact that so many magazines are picking the Pats to repeat is a testament to how good they are because it is typically "uncool" for NFL magazines to pick the team that won the year before. The Eagles and Colts are the trendy picks, but the smart money remains on New England. That is not to say that the Patriots are more likely to repeat than not, only that they are the most likely team to hoist the Superbowl trophy on February 6th in Jacksonville. Do I think that the Patriots will win their third Superbowl in four years? It depends on the answers to these six questions:
Will Tom Brady remain healthy in 2004? Bill Belichick and company have done a nice job building depth on this team. The Patriots have five solid receivers so if one or two are out with an injury, the others can step in. They appear to have three capable tight ends. The offensive line isn't incredibly deep, but there are a couple of experienced players that are capable of filling in for an injured starter. The Patriots have excellent depth on defense, especially at linebacker. Asante Samuel could easily fill in for Poole or Law, at least in the short term, at cornerback as he did last season. The Patriots can't afford to lose Corey Dillon for a long period of time, but Kevin Faulk could carry the load for a few games. The one player that the Patriots absolutely cannot afford to lose is Tom Brady. Not only is Brady the team leader and the best offensive player on the team, but the Patriots really don't have an adequate backup if Brady suffers a serious injury. Rohan Davey has not been impressive in the preseason and so far the Patriots have not made a move to get an experienced backup (I've heard Doug Flutie's name mentioned in the rumor mill). There is a reason why I gasp whenever Brady gets hit.


Will we see the Corey Dillon of old? Many people think that the Patriots could actually be better in 2004 than they were in 2003, mainly because of the addition of Corey Dillon. Antowain Smith did a nice job for the Patriots, but was not a guy that defenses feared. Dillon could be that fearsome presence. If the Patriots establish a more consistent running attack, the field will open up for the Pats speedy receivers and tight ends. Dillon, who averaged 4.6 yards per carry in 1999 and 2000 has averaged only 4.0 yards per carry over the past three seasons. That begs the question: has the 29-year-old Dillon lost a step or was his decreased productivity a product of playing for the Bengals and not being very happy doing it? Even at 4.0 yards per carry, Dillon would be a huge upgrade over Smith's 3.5 yards per rush last season.


Will Roosevelt Colvin return to full health? The severity of the hip injury which cost Roosevelt Colvin nearly his entire 2003 season makes you wonder if he will ever be the same player again. Colvin was one of the top pass rushers in the game in 2001 and 2002 with 10 1/2 sacks in each season. If he regains his pre-injury form, it could transform the Patriots defense. The 2003 Patriots did a decent job rushing the passer (41 sacks) but no one else on the Patriots defense is a bona fide pass rushing specialist like Colvin. Colvin's pass rush abilities will make the Patriots secondary even better, provided that he's healthy. Because the Patriots have depth at linebacker, Colvin will be able work his way back slowly. Only time will tell if he be the player that he was prior to the injury.


Will the new rules on pass coverage negatively impact the Patriots? During the offseason, the NFL decided that tough, physical football was not good for the game so they have decided to crack down on defensive backs making contact beyond five yards. This is great news for "girlie man" receivers like Torry Holt and Marvin Harrison, but terrible news for physical players like Ty Law. I think that the new rules will have negative ramifications for Law and the Patriots defense, but could help the team overall because the smallish Patriots receivers should benefit from the rule. The new rules could also benefit the Patriots because Tom Brady is a master of timing patterns and with contact virtually outlawed (no pun intended) beyond five yards, Brady should see more distance between receivers like Deion Branch and Troy Brown and the secondary. New England's speedy receivers - Bethel Johnson comes to mind - should also find it easier to run deep patterns.


How much will the loss of Ted Washington hurt the Patriots? It was tough to see Damien Woody leave the Patriots, but the offensive line played very well without him, especially in the Superbowl. Ted Washington, on the other hand, was a tremendous loss for the Patriots. The Patriots were a very good defense when Washington was out. They were a great defense when he played. There will be heavy pressure on veteran Keith Traylor and rookie Vince Wilfork to fill the enormous shoes of the 365 pound (at least) Washington. Nose tackle is the one area where the Patriots are expected to be weaker in 2004 than they were in 2003. On the other hand, the statistics prove otherwise. The Patriots defense held opponents to an average of 3.6 yards per carry in 10 games with Washington and 3.5 yards per carry in games without Washington. It should also be mentioned that Washington is 36-years-old and has missed 20 of this last 32 games because of injury.


Will Ty Law be a "happy camper" or a disruption? Ty and the Patriots feuded during the offseason over Law's contract. At one point Law said "I no longer want to be a Patriot. I can't see myself putting on that uniform again." Law decided not to hold out and will play this season, which is likely to be his last in a Patriots unform (the Pats are likely to release him before next season's $12.5 million salary cap hit). The question is: will Law play with the same heart and desire that he did last year or will he "pull a Nomar" and poison the locker room. As a team leader, Law could have a very big negative impact on the Patriots if he so chooses.



Here are my 2004 NFL Predictions. Picking the Patriots to win the Superbowl is the safe choice, but where's the fun in that?
2004 NFL Predictions
Division
Winner
Comments
AFC East
New England
Pats should win the division by 2 to 3 games if they are healthy
AFC North
Baltimore
The Ravens only weakness is the passing game
AFC South
Indianapolis
Jacksonville is a serious sleeper in this division
AFC West
Kansas City
With any defense at all, the Chiefs probably would have been in the Superbowl last season
AFC WC
Denver
Bailey and Lynch immediately give the Broncs one of the best secondaries in the league
AFC WC
Tennessee
Can McNair finally have a healthy season?
NFC East
Philadelphia
The Philly hype has been exaggerated but the defense should be enough to win the division
NFC North
Minnesota
The Vikes will go as far as Randy's attitude takes them
NFC South
Tampa Bay
Gruden will not allow the Bucs to fall on their faces again this year
NFC West
Seattle
Hasselbeck may finally be ready to make "the leap" and become one of the top passers in the league
NFC WC
Carolina
I don't see another Superbowl for the Panthers but this is an up-and-coming franchise
NFC WC
St. Louis
The crack down on defensive back contact will help the Rams slip into the Playoffs
Playoffs
AFC Championship
Chiefs 24 Patriots 20
NFC Championship
Seahawks 20 Eagles 13
Superbowl
Seahawks 31 Chiefs 27

The Red Sox have a simple plan for the final four weeks of the season: lose three fewer games than the Yankees. The Sox are 2 1/2 behind in the AL East heading into Labor Day, but the margin in the loss column is 2 games. As of today, New York has the scheduling advantage. The Yankees play 14 of their final 26 at home while Boston plays only 10 of their last 27 in Fenway. However, if the Red Sox can survive the next three days without losing any ground in the standings, that scheduling advantage disappears. Over the next four days, the Red Sox play three in Oakland while New York plays four with the Devil Rays. This is a great opportunity for the Yankees to gain ground. After these three days, both the Red Sox and Yankees will have 10 remaining home games and the strength of schedule will be relatively even. Of course the six head-to-head matchups (three in Fenway, three in Yankee Stadium) could be the deciding factor. If New York wins the majority of those games, the remainder of the schedule probably won't matter. If the Sox, take four of six, the remaining schedule will be the deciding factor. There is one other issue that could impact the race. The Yankees toughest remaining opponent (other than Boston) is Minnesota. The Twins play three in New York during the first part of the final week of the season. The problem for Boston is that Minnesota is likely to have wrapped up the Central by then and might be "mailing in" the final week of the season while they prepare for the Playoffs. This means that Sox fans should be hoping that the AL Central race tightens over the next three weeks.

Here are the Red Sox and Yankees remaining games (as of 9/6):
BOSTON:
HOME (10) - TB (3), BAL (4), NYY (3)
AWAY (17) - OAK (3), SEA (4), NYY (3), TB (3), BAL (4)
NEW YORK:
HOME (14) - TB (5), BOS (3), TOR (3), MIN (3)
AWAY (12) - BAL (3), KC (3), BOS (3), TOR (3)

Here's how the rotation looks over the remainder of the season if there are no rainouts or changes:
@ Oak (3): Arroyo, Lowe, Martinez
@ Sea (4): Wakefield, Schilling, Arroyo, Lowe
OFF DAY (9/13)
vs TB (3): Martinez, Wakefield, Schilling
@ NYY (3): Arroyo, Lowe, Martinez
vs Bal (4): Wakefield, Schilling, Arroyo, Lowe
vs NYY (3): Martinez, Wakefield, Schilling
@ TB (3): Arroyo, Lowe, Martinez
OFF DAY (9/30)
@ Bal (4): Wakefield, Schilling/Arroyo, Lowe (Sat double-header)

Joel Sherman of the New York Post wrote about the Red Sox surge in the AL East: "The Yanks look like Rosie O'Donnell trying to hold off Michael Phelps in the 100 butterfly." I think that is how it looks to most of us, including the most pessimistic of Sox fans. The Yankees are falling apart. By all rights, the Red Sox should already be in first place. The Sox run differential (runs scored minus runs allowed) is 87 better than the Yankees, yet Boston is behind because the Yankees have been winning lucky all season and the Sox couldn't catch a break until the last month. ESPN.com calculates each team's expected wins and losses based on run differential. According to this formula, created by stat guru Bill James, the Sox should be leading the AL East by 8 1/2 games. How bad have the Yankees been? Over the past 20 games, they are 9-11 which isn't too awful until you consider that in five of those games, the Yankees were tied or trailing heading into the 9th inning and that New York has been outscored by a total of 27 runs during that time. That 9-11 record is a few bounces from being 4-16.

It is no secret that long winning streaks occur when several players get hot at the same time. This is certainly the case for the Red Sox. Some players like Damon, Ortiz, Ramirez and Schilling have sizzled all season long. Here are some other players that have peaked over the last couple of months:
Jason Varitek is batting .378 with 7 HR and 30 RBIs in 127 at bats since the All Star break. He batted .275 with 10 HR and 34 RBIs in 262 ABs before the break.


Kevin Millar is batting .333 with 9 HR and 40 RBIs since July 1st. He batted .272 with only 5 HR and 21 RBI prior to July 1st.


Bill Mueller is batting .308 with 6 HR and 30 RBI since returning from injury in July. He batted only .262 prior to the injury.


Orlando Cabrera is batting .358 in his last 20 games. He batted .246 in Montreal and under .200 in his first two weeks with Boston.


Pedro Martinez is 4-1 since August 1st with an ERA of 1.94 and a strikeout to walk ratio of 65/9. Pedro was 11-4 with an ERA of 4.15 through July.


Derek Lowe is 4-1 with an ERA of 4.10 since August 1st. Through July, Lowe was 9-9 with an ERA of 5.52.


Tim Wakefield is 7-3 since July 1st with a 47/14 strikeout to walk ratio. Unfortunately, his ERA is 5.19 over that time.


Bronson Arroyo is 5-6 with a 3.65 ERA in his last 15 starts. His strikeout to walk ratio is 81/29 over that time. Prior to that, Arroyo was 2-3 with an ERA of 5.33.


Keith Foulke has given up 0 earned runs in 14 of his last 17 appearances and is 11/11 in save chances since July 20th.


Alan Embree has given up only 4 hits and has not walked a batter in 5 2/3 innings since August 1st.


Ramiro Mendoza has a 1.77 ERA in 20 1/3 innings since returning from injury.


As a team, the Red Sox are batting .292 since the All Star break (6.1 runs per game). They batted .281 prior to the break (5.6 runs per game).


The Red Sox team ERA was 3.88 in August, the lowest since April's 2.95.


August 31, 2004

Sadly, my interest in the Summer Olympics (and the Winter Games for that matter) seems to diminish every four years. I have fond memories of the 1980 Winter Games in Lake Placid, largely because it was my first experience watching the Olympics. I was too young to understand the overall significance of the US Hockey Team's victory over Russia, but I loved the action nonetheless. I vividly recall the great 1984 Summer Games in Los Angeles. The Americans of course won every medal that wasn't nailed down. There was plenty of hype for the Summer games in 1992 (the original Dream Team) and 1996 (hosted by Atlanta). I can't recall anything from 2000 except for Rulon Gardner. The Winter Games haven't been compelling since the year that Tonya Harding hired some oaf to play whack-a-mole with Nancy Kerrigan's ankle. This year, I probably watched less of the Summer Games than ever, but did tune in long enough to come up with a few observations.


Has there ever been a sillier Olympic event than fast walking (or as they call it the 20 km and 50 km walk)? The participants in this "sport" obviously have a high threshold for humiliation. Martin Short and Harry Shearer didn't even look that goofy in their classic 1984 Men's synchronized swimming skit on Saturday Night Live ("I'm not that strong a swimmer"). It is a travesty that fast walking became an Olympic event before poker, candlepin bowling, Nintendo and wiffle ball.

Like many, I felt that the Misty May / Kerri Walsh romp to gold in Beach Volleyball was one of the most compelling stories of the Olympics. Still, I couldn't have been the only one who thought that the news of Misty May sprinking her dead mother's ashes on the court before the semifinal game was a little bit creepy. I also felt guilty because I couldn't help but think about the end of The Big Lebowski where The Dude and Walter have the ceremony for Donny.

Was anyone else thinking that Jennie Finch and Beach Volleyball is a match made in heaven?

As usual, we were forced to suffer through gymnastics nearly every night in primetime. It's bad enough when medals are on the line, but NBC also televised the "it doesn't even count" gymnastics recital (or whatever they call it). It makes me want to scream. I still cannot understand the fascination with watching these hobbits bounce around on a floor mat. Thank god there is no professional gymnastics league. Having the WNBA force fed to us on national television every week is bad enough.

One of the most ludicrous stories to come out of the Olympics came from the International Federation of Gymnastics which asked American Paul Hamm to turn in the gold medal that he won because of a judge's scoring error. This is beyond ridiculous, even for people involved in gymnastics. First of all, the entire sport is based on the random whims of judges. There is no real scoring system, so every medalist is more or less chosen at random to begin with. Secondly, errors in officiating is part of every sport (not that gymnastics is really a sport). It would set a foolish precendent if teams that won important matches or games started surrendering their victories where there was evidence of poor officiating. Should the Kansas City Royals hand over the 1985 World Series trophy to the St. Louis Cardinals? Should the Raiders surrender Superbowl XI because a bad roughing the passer call against the Patriots enabled them to get to the Superbowl? I'm going to say "no" but I'm sure the guys who closely follow the sport which features men in tights will disagree with me.

Of all the jobs in the world that I would not recommend for nearsighted people, javelin distance judge tops the list.

My favorite personality from the Olympics was the Russian Women's Volleyball coach, Nikolay Karpol. Karpol spent the entire championship game screaming at his players. Apparently, he's like that during all of the games. This guy is so out of control he makes Bob Knight look like Mr. Rogers.

More from Outside of Athens:

The United States and every other country that isn't a complete farce (that's you Phillipines) adheres to a strict policy of never negotiating with terrorists. I think the NFL needs to institute a similar "do not negotiate with holdouts under contract" policy.

How irrelevant is baseball in Montreal? Let's put it this way: Expos fans no longer have the will to chase foul balls hit into the stands.

I can't think of a better way to end the month than with a score like Indians 22, Yankees 0. In just over two weeks, the Red Sox have moved from 10 1/2 games behind the Hated Ones to only 3 1/2 games out. Moreover, during that time the Yankees have won four games in the ninth inning. The Yankees trailed heading into the ninth in one of those games and won two others with two outs in the ninth inning. Take those games away and the Sox are actually ahead in the AL East. The Yankees shouldn't have a lead to begin with. Boston has outscored their opponents by a total of 141 runs this season. The Yankees have outscored their opponents by a total of only 59. The Red Sox have a higher batting average by nearly 20 points and have scored 37 more runs than the Bronx Bombers. The Red Sox staff ERA is nearly an entire run better than the Yankee staff ERA. With the additions of Cabrera and Mientkiewicz, the Sox are probably a better defensive team as well. The Sox are 8-5 against New York this year and would be 10-3 if not for a hole in David Ortiz's glove and a fluke two-out, extra inning rally by the Yankee bench stiffs. The Yankees are not only in danger of giving up the AL East, but the way that Anaheim and Oakland are playing, the $190 million men may not even make the playoffs. Best of all, the trading deadline has come and gone, so Steinbrenner can't buy any more players in 2004. The Red Sox are clearly the better team. Hopefully, they will be at least four games better over the next five weeks.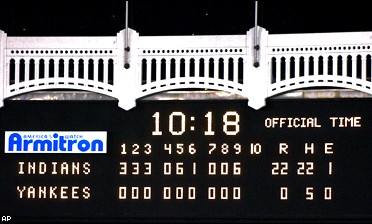 The Boston College Eagles open their final season in the Big East on Thursday against Ball State in Muncie, Indiana. To learn more about the Eagles, please visit www.bceaglesfootball.com. New this week: The Top Ten Things to know About Ball State Football and BC's Probable Starters.
August 17, 2004

With six weeks left in the Major League Baseball season, the AL and NL MVP and Cy Young awards remain up for grabs. Here are my favorites to win the awards:
AL MVP
Vladimir Guerrero, Angels -- Guerrero and Jose Guillen have carried an Angels team decimated by injuries in 2004. Vlad has had little trouble adjusting to American League pitching. He's currently among the top eight players in the AL in batting average (.325), homers (25), RBIs (89), runs (89) and doubles (30). Oh by the way, Guerrero has 10 outfield assists as well. If the Angels make it to the postseason, Vlad should be a lock. Even if they don't, he's the favorite.



David Ortiz, Red Sox -- On offensive numbers alone, David Ortiz runs away with MVP award. He is tied with teammate Manny Ramirez for the league lead in homers with 30 and is second in RBIs with 105 (which puts him on pace for 41 HR and 144 RBI). He's also batting a healthy .309 with 39 doubles. The biggest negative for Ortiz is that he is mainly a designated hitter and many voters will not vote for a DH. But, if the Angels fade and the Sox push their way into the playoffs, Ortiz and Ramirez could have a chance to steal the award from Guerrero.



Manny Ramirez, Red Sox -- Manny Ramirez is having nearly as big as year as David Ortiz. He's tied with Big Papi for the league lead in homers and is in the top seven in doubles, RBIs, batting average and on base percentage. He leads the league in slugging percentage. Unlike Ortiz, Ramirez plays in the field on most days. Ramirez may miss out on some MVP votes because of his strange tendency to disrupt team chemistry. Sox fans know that Ortiz is the team's MVP and so do the voters. However, if Ramirez has a huge September and Ortiz and Guerrero do not, Manny could win the AL MVP.



Gary Sheffield, Yankees -- .292, 28 HR, 86 RBI
Travis Hafner, Indians -- .315, 21 HR, 91 RBI
AL Cy Young
Mark Mulder, A's -- 2004 looks an awful lot like the 2002 season when an Oakland A's ace held off two Red Sox starters to win the AL Cy Young Award. That year, it was Barry Zito outlasting Pedro Martinez and Derek Lowe. This year, it is Mark Mulder with a narrow lead over Curt Schilling and Pedro. Mulder is impressive across the board: 15-4 with a solid 3.71 ERA and 119 strikeouts. Surprisingly, Mulder is the only A's starters in double figures in wins at this point. That fact, coupled with the A's success, makes Mulder the clear Cy Young leader with six weeks left.



Curt Schilling, Red Sox -- Curt Schilling was neck and neck with Mulder, but has struggled a bit of late. Schilling's numbers remain impressive, however. He's 14-6 with a 3.60 ERA and is fourth in the league with 143 strikeouts. He's also been a workhorse (as usual), tossing 167 innings.



Pedro Martinez -- After a slow start, Pedro Martinez has put himself in position to win a fourth Cy Young Award. Pedro is currently 13-4 with an ERA of 3.78 and 170 strikeouts. He's 9-1 in his last 14 starts and has double-digit strikeouts in his last three starts.



Johan Santana, Twins -- 12-6, 3.25 ERA
Joe Nathan, Twins -- 34/35 in save chances, 0.84 ERA
NL MVP
Scott Rolen, Cardinals -- What a year Scott Rolen is having. He's currently fourth in batting average (.328), eighth in homers (28), first in RBIs (104) and has played spectacularly at third base. It doesn't hurt that the Cardinals have been the best team in baseball by a mile and a half.



Albert Pujols, Cardinals -- Rolen's chief compeition for MVP is the amazing Albert Pujols who has put up equally impressive numbers (.324, 37 HR, 93 RBI). Rolen will likely have the edge on his teammate because of his superior defense but if Pujols hits 50 homers, he might get the nod.



Barry Bonds, Giants -- Barry Bonds is certainly the most important player to his team, which is officially what the MVP Award honors. Bonds has some freakish numbers including a .607 on base percentage and .790 slugging percentage. Those numbers would look good in a slow-pitch softball league. Bonds is also leading the league with a .354 average and is near the top with 33 homeruns. The fact that the Giants are back in the pennant race puts Bonds back in the MVP race.



Adrian Beltre, Dodgers -- .324, 34 HR, 82 RBIs
Bobby Abreu, Phillies -- .294, 26 HR, 82 RBIs, 29 SB
NL Cy Young
Jason Schmidt, Giants -- Jason Schmidt finished second in the NL Cy Young voting last season but will difficult to beat this season if he continues to win. The Giants ace is 15-4 with a 2.59 ERA and 186 strikeouts this season and is 32-9 since the start of last season. What's more, Schmidt started the season 0-2. He has won 15 of 17 decisions since.



Roger Clemens, Astros -- Unlike Schmidt, Roger Clemens had an amazing start to his first season in the National League. The Rocket was 9-0 with a 2.08 ERA through 12 starts. Since then, Roger has won only 3 of 7 decisions in 12 starts and his ERA has risen to a still excellent 2.76 ERA. Clemens would likely be the sentimental favorite if he returns to his early season form, but that is not a likely scenario for the 42-year-old.



Carlos Zambrano, Cubs -- Carlos Zambrano has been the victim of lack of run support on many occasions this season. Three times the Cubs have been shutout in a Zambrano start. Still, the 23-year-old righthander has had an outstanding season going 11-6 with a 2.84 ERA and 142 strikeouts. In addition, five times this season Zambrano has given up no earned runs. Zambrano will probably need to win at least another six or seven games this season to have a shot to win the NL Cy Young in 2004.



Carl Pavano, Marlins -- 13-5, 3.02 ERA
Russ Ortiz, Braves -- 13-6, 3.46 ERA

In his last 12 starts, Bronson Arroyo has an ERA of 3.35 and a strikeout to walk ratio of 3.35. Unfortunately, Bronson is only 3-6 during that time period. If you remove the bad outing against the Yankees on July 24th, Arroyo's ERA is 2.86 in his last 11 starts.

In the week that he has been with the team, Browns rookie tight end Kellen Winslow has fought with an opponent in a preseason game, fought with a teammate in practice and publicly challenged his teammates to match his intensity level. I've never played pro football, but my sense is that it isn't exactly appropriate for someone who has been in the league for a week to be questioning the desire of ten year vets. The Browns should be ashamed of themselves for giving $40 million ($16 million guaranteed) to a player who has never played a single down in the league and is a first class idiot, not unlike pretty much every player that arrives from the University of Miami, including the previous UM tight end, Jeremy Shockey. My prediction is that Winslow will suspended by midseason, will be demanding a trade by this time next year and will someday fake being injured and exhausted in an AFC Playoff game in Miami.

Speaking of losers, has anyone in the history of the NFL been more pathetic than Ricky Williams? Williams decided that giving up marijuana was too much of a sacrifice to receive $6 million per year to play in the NFL. Miami lost Williams to drugs and David Boston to an season-ending injury in a single week. For once, the Dolphins will have a legitimate excuse for failing to make the playoffs.

Michael Moore's "documentary" film Fahrenheit 9/11 will be available on DVD on October 5th, just four weeks before the Presidential Election. Michael Moore fans will be able to purchase the DVD alone or buy the deluxe edition, which includes the DVD, an American Flag, a bottle of gasoline and a lighter.

Last week John Kerry made a speech in which he told the audience that America should be fighting a more "thoughful" and "sensitive" war. I guess what this means is that if John Kerry becomes President, he will cancel the contract with Raytheon and ask the people at Hasbro to produce Nerf missiles.

George Bush also made news last week by not falling off of his bicycle.

Has anyone ever seen these guys -->


and these guys -->

in the same place at the same time?
July 18, 2004
The reviews are in. Here are some testaments to Michael Moore's Fahrenheit 911:
"I laughed, I cried. Finally, a film where I am the good guy."
-Saddam Hussein
"This is the best Al Qaeda recruiting tool I've seen. The only thing missing is terrorists training on monkey bars."
-Osama Bin Laden
"It was a brilliant moronic film. I loved every minute that I hated it. At the concession stand I bought popcorn before I didn't I buy popcorn. I give it one thumb up and one thumb down."
-John Kerry
"I didn't care for it."
-George W. Bush
"Two Thumbs Way Up!"
-Ebert and Roeper
(Believe it or not, the last quote is real. Now that I think of it, I've never seen Ebert and Michael Moore in the same place at the same time).
Here are some quotes from Michael Moore followed by my comments

"If someone did this [9/11] to get back at Bush, then they did so by killing thousands of people who DID NOT VOTE for him! Boston, New York, D.C., and the planes' destination of California -- these were places that voted AGAINST Bush!"
-Michael Moore, September 12, 2001

First of all, this quote proves that Michael Moore is the dumbest man on the planet. Why on earth would Al Qaeda be trying to "get back at George Bush" as Moore proposes? It makes no sense. It wouldn't have mattered if Bush, Gore, Clinton or Bugs Bunny were President. Killing Americans was their only motivation. It's sickening that Moore, just one day after the terrorist attacks, was already exploiting the deaths of 3,000 people to make a political statement - a completely nonsensical one - against George Bush. When decent people learn of tragic events like 9/11 and the shootings at Columbine, we feel great sadness and our hearts go out to the victims and their families. When Michael Moore learns of these events, all he can think about is how to exploit their deaths for financial gain. When people die in a very public manner, Michael Moore probably hears the sound of cash registers ringing in his head.

"There is no terrorist threat in this country. This is a lie. This is the biggest lie we've been told."
-Michael Moore, October 2003
No terrorist threat? Unbelievable. The next thing we know, Michael Moore will be doing a "documentary" claiming that 9/11 never happened and that Adolf Hilter is George W. Bush's real father.

"The Iraqis who have risen up against the occupation are not 'insurgents' or 'terrorists' or 'The Enemy.' They are the Revolution, the Minutemen, and their numbers will grow, and they will win."
-Michael Moore
Michael Moore has said so many disgusting things, it's hard to pick the worst. This one is certainly a finalist. In this quote, Moore compares our Minutemen, who fought toe to toe with British soldiers to people in Iraq who (a) cowardly sneak up and shoot our soldiers in the back or (b) murder American civilians, burn their bodies and hang their corpses from bridges or (c) murder people from their own country simply because those people desire freedom. It also appears that Moore is rooting for the insurgent terrorists ("and they will win").

"I'm sorry, but the majority of Americans supported this war once it began and, sadly, that majority must now sacrifice their children until enough blood has been let that maybe -- just maybe -- God and the Iraqi people will forgive us in the end."
-Michael Moore
Wow. This sounds an awful lot like the material coming out of Osama Bin Laden. Al Qaeda's opinion is that America is the evil force and that God is on the side of people that kill innocent Americans and Israelis. Obviously, Michael Moore agrees with that belief. It appears that he is also calling for the deaths of American soldiers. I can't be 100% sure, but it would not surprise me if Moore is rooting for our soldiers to die with the hope that it will help John Kerry win the November election.

"The dumbest Brit here is smarter than the smartest American".
-Michael Moore
Riiiight. That's why Great Britain is the most powerful, successful country in the world. Oh wait, that's the United States.

"There's a gullible side to the American people. They can be easily misled. Religion is the best device used to mislead them."
-Michael Moore
Hmmm. In this quote Moore is talking about "gullible" Americans being "misled." The pinnacle of gullible people being misled is the audience at a Fahrenheit 911 showing. People in the Middle East believe that America is evil because they have had it drilled into their heads every day of their lives since birth. Convincing some Americans that the United States is evil apparently requires nothing more than two hours and a tub of popcorn. No one - I mean no one - has misled Americans more than Michael Moore.

"I like America to some extent."
-Michael Moore's response after being asked "You do not seem to like the U.S., do you?"
This is the closest Michael Moore will ever come to honesty. He clearly hates the United States as a nation, he hates Americans (except for himself) and he hates American soldiers.

"The Patriot Act is the first step. Mein Kampf was written long before Hitler came to power. And if the people of Germany had done something early on to stop these early signs, when the right-wing, when the extremists such as yourself (Bob Novak), decide that this is the way to go, if people don't speak up against this, you end up with something like they had in Germany."
-Michael Moore
Michael Moore may think he is being original by comparing the United States to the Third Reich, but this has been done to death by America-haters ranging from George Soros to Janeane Garofalo. Adolf Hitler killed as many as 30 million people. I can't even begin to describe how shameful it is to compare Hitler's acts of uncomparable evil to U.S. foreign policy. Actually, what America has done is remove from power a man who was one of the most prolific mass murderers since Hitler. Had Moore been alive in 1944, he probably would have taken Hitler's side.

"The motivation for war is simple. The U.S. government started the war with Iraq in order to make it easy for U.S. corporations to do business in other countries. They intend to use cheap labor in those countries, which will make Americans rich."
-Michael Moore
This comment appears to be jibberish. I would need a Traitor to English Dictionary to figure this one out.

"We live in the time where we have fictitious election results that elects a fictitious president. We live in a time where we have a man sending us to war for fictitious reasons. Whether it's the fictition of duct tape or fictition of orange alerts we are against this war"
-Michael Moore
This coming from a man whose movies are more fictitious than Spiderman 2.
More Conspiracy Theories and Stupidity

Michael Moore claims that the U.S. went to war in Afghanistan not to avenge the terrorist attacks but so that the Unocal Corporation could build a natural gas pipeline across Afghanistan.
Is anyone really dumb enough to believe that the murder of 3,000 people on September 11th was NOT the reason for the invasion of Afghanistan? Well, there is at least one. Democratic National Committee Chairman Terry McAuliffe believes Moore's fantasy and has endorsed Moore's America-hating ways. Of course this is the same guy who has been whining about the 2000 election for four consecutive years. Unlike the rest of us, McAuliffe and Moore didn't learn about the electoral college in fifth grade.

In late 2002, a year after the 9/11 terrorist attacks, in a debate with with Christopher Hitchens at the Telluride Film Festival, Moore claimed that Osama Bin Laden should be considered innocent until proven guilty.
Bin Laden innocent? Has Moore not seen Bin Laden's tapes urging Muslims to kill Americans? I'm sure he has seen the tapes but when you take sides with the enemy, you might as well go all out. What's worse is that Moore has been calling George W. Bush a deserter (from the Air National Guard) though there isn't a shred of evidence to support it. In Moore's eyes, The President is guilty until proven innocent but Bin Laden deserves the benefit of the doubt.
Final Comments

The biggest irony of all is that if Michael Moore had been a citizen of Iraq during Saddam Hussein reign and had made a similar film insulting the Saddam regime, the Iraqi dictator would have tortured him, imprisoned him and probably killed him, all without anything resembling a trial. Moore would not be able to produce these documentaries or make the millions that he does anywhere else in the world. Though Moore is very much a traitor, a deceiver and a despicable human being, the word that describes him best is 'ingrate.' He owes more to this country than pretty much every other United States citizen. He repays that by insulting Americans, emboldening our enemies and increasing the level of danger for our troops in Iraq. It sickens me that I have to share the planet with this man.
And More

As I looked at this past weekend's movie openings, it appeared that a Conservative had made a film to offset Moore's "Bush-bashing" in Fahrenheit 911. I was wrong. As it turns out, i-Robot is not about John Kerry.

The latest small thing that makes me laugh: SUV drivers slowing down to 2 miles per hour to go over speedbumps.

The over/under on Maria Sharapova joining the Sopranos to play Tony's latest Russian mistress is January 2006. The over/under on the number of months before everyone forgets about Anna Kournikova is four.

The Sox ended the day seven games behind the Yankees in the AL East despite having a better run differential (+74 to +58) than the Bronx Bombers. The Sox will need to win at least two of three next weekend in Fenway to have a legitimate chance to win the AL East. Pedro's extra day off (he pitched Friday in Anaheim instead of Thursday) means that he will miss the Yankee series in Fenway. Between this episode, Nomar's sulking in the last Yankee series and the Manny hamstring incident (he was somehow healthy enough for the All Star Game), it appears that the Red Sox top three superstars don't care too much about winning a championship.

Speaking of the Yankees, I'm feeling generous today so I will do something that I have never done before and will probably never do again. I am going to say something nice about the Yankees. I hate the Yankees and I always will, but it doesn't mean that they don't have any redeeming qualities. In fact, I would much rather spend a day with a Yankee fan that supports his country than a Red Sox fan that supports Michael Moore. Anyway, here is my list of five good things about the Yankees (you didn't really expect me to come up with ten did you?).
Derek Jeter: How can anyone not be impressed with the way Derek Jeter plays the game? Jeter's catch against the Red Sox where he tumbled into the Yankee Stadium stands is a testament to his exceptional effort and desire. Most players would have slid feet first on that play, but not Jeter. He sacrificed his body for the team as if it were the seventh game of the World Series. Jeter is also one of the smartest ballplayers I have even seen on a baseball diamond. It is no accident that he is always in the right place at the right time.



The Yankees, for the most part, have been a decent group of guys: Like most teams, the Yankees have employed some scoundrels over the past few years (Kevin Brown, Karim Garcia, Jeff Nelson, Roger Clemens) but for the most part, the Yankees have had a very likeable roster over the past six or seven years. I've already mentioned Derek Jeter. You can add all-around good guys like Mariano Rivera, Bernie Williams, Andy Pettitte and Jorge Posada. Paul O'Neill was a guy that annoyed me with his constant whining to the umpires, but he always played hard and I always respected him for it. Leading this crew is another good guy, Joe Torre. I sort of miss the old days when the Yankees had players that you loved to hate like Reggie Jackson, Luis Polonia, Steve Howe and Darryl Strawberry.



Steinbrenner is Committed to Winning: I don't like George Steinbrenner but I have to give him credit for doing everything that he can to win. Steinbrenner could easily get away with a $150 million payroll. Not many fans would object since he would still be spending $20 million more than any other team. Instead he is spending $190 million (not including luxury tax) and is willing to raise that figure even more to improve his team. I don't like the fact that the league allows him to outspend everyone by 50-400% but I can't help but admire the fact that he is trying to win, unlike some greedy, penny-pinching owners around baseball.



YES Network Announcers: As a DirecTV subscriber, I have access to a good percentage of the games played in the major leagues, including the Yankee games on the YES Network. Though they could never replace Don, Sean and Jerry, the YES broadcast team of Michael Kay and Jim Katt is excellent. They have great knowledge of baseball, the Yankees and the opponent. I appreciate Michael Kay's understated play-by-play (which is quite the opposite of obnoxious radio voice John "Theeeeeeeeee Yankees Win" Sterling). Jim Katt's knowledge is incredible.



Bob Sheppard: Long time (I'm talking 50 years) Yankee Public Address Announcer Bob Sheppard is one of the most unmistakable voices in baseball history, not unlike former Sox PA Announcer Sherm Feller. Sheppard's voice takes me back to my first days following baseball and the Yankee-Red Sox rivalry.
June 24, 2004

Just when you think that Barry Bonds can't possibly be a bigger jerk than he already is, he finds a new way to solidify his standing as one of the most obnoxious players in baseball history. Bonds told the Boston Globe last week that he would never play for the Sox because Boston "is too racist" for him. I might be able to sympathize a little if Bonds had actually been the victim of racism while in Boston but he admitted that his opinion is not based on any personal experience but on what he has heard. Boston remains dogged by allegations of racism mainly because of events that occurred in the mid-1970's. The myth that Boston a is racist city is kept alive largely by the New York media, probably to mask their own problems with racism that have occurred in recent years, not three decades ago. If Boston is racist, why was Mo Vaughn Boston's biggest sports hero in the late 1990's? Why is Pokey Reese the new fan favorite? Why did David Ortiz extend his contract if the racial climate is so poor? Even before his smear-job, I was rooting for Bonds to fail in his attempt to overtake the great Hank Aaron and become baseball's all-time home run king. It would be an absolute shame if a true great like Aaron is nudged out of the record books by an egotistical whiner who is more than likely cheating his way to the record. Bonds has undoubtetly experienced racism during his lifetime, but the bigotry that Aaron faced during his playing career was probably 100 times worse. False accusations of racism are just as bad as racism itself.

It infuriates me that pitchers are making it so easy for Bonds to challenge Aaron's record. If Bonds had played in Hammerin' Hank's era, he would be getting drilled in the back at least once per game. No pitcher from the 50's and 60's would allow a player to crowd the plate like Bonds does. The sight of the elbow pad alone would cause most pitchers from that era throw their best fastball into the small of Bonds' back.

The All Star break is fast approaching and teams are beginning to fall out of contention. That can mean only one thing: time for the Yankees to go on a shopping spree. George Steinbrenner knows that the Yankees are an inferior organization to the Red Sox, Twins, White Sox, A's and Angels. The only way that he can beat those clubs and go back to the World Series is to spend more money. New York's $65-130 million payroll advantage over the other clubs simply isn't enough to keep the Yankees on top so Big Stein is likely to go out and grab Carlos Beltran and a top starting pitcher - at the very least. There has been talk about the Red Sox trying to acquire to Beltran, mainly to keep him away from the Yankees, but I seriously doubt that Theo and Company are thinking along those lines. As far as I'm concerned the only thing the Red Sox starting nine needs is health. With the Sox regulars healthy, you have McCarty and Kapler for defense and Bellhorn and Youkilis for offense off of the bench. I really wouldn't change a thing unless an incredible offer crossed the table or if there was a serious injury to a key player. I am also willing to go through the rest of the season with the rotation as is. Lowe and Arroyo are coming around. Wakefield is in a slump but as we all know, he can be absolutely awful for eight starts then come back and win eight in a row. Maybe we should be glad that Wake is getting his slump out of the way now. The late inning bullpen crew of Embree-Timlin-Williamson-Foulke is solid. The Sox will undoubtedly pick up another veteran middle reliever for the stretch run but right now, I don't think this club needs to make any major moves if they can get healthy (that's a big IF). If a deal for someone like Randy Johnson comes along, they should go for it, but there isn't any need to mortgage the future to get a 10% upgrade with a guy like Freddy Garcia.

Nomar's stint on the DL may turn out to be a blessing in disguise for two reasons: (1) It gave Mark Bellhorn the opportunity to emerge and (2) Nomar's wrist won't take as much punishment this season. Last year, Nomar fell into the worst slump of his career in September. I can't help but think that the wear and tear of a 162 game schedule on the wrist had an impact on his hitting. Garciaparra batted .300 or better in nearly every month for three years, so it doesn't make sense that he would drop to a .170 month in the heat of a pennant race unless something was dramatically wrong.

The Brockton Rox of the Northeast League cancelled a Grady Little "Bobble-arm" giveaway. The team President said "The promotion, as great as I think it is, is being canceled because some saw it as distasteful to Grady personally, .." Hmmm, I can't think of anything as distasteful as Grady's managing, but that's just me. Unfortunately, I couldn't find any of the Grady Bobble-arms on EBay.

It seemed like the Red Sox were giving up an abnormally large number of unearned runs so I checked the stats. I was right. The Sox are leading all of Major League Baseball in unearned runs given up with 49 (the league average is only 27). Kansas City is second with 43. The gap was even larger when I calculated unearned runs as a percentage of total runs allowed. A whopping 14.8% of the runs surrendered by the Sox pitching staff have been unearned. The next worst percentage is again Kansas City at 11.5%. The league average is 8.1%. However, five teams has committed more errors than the Sox. The most annoying part of all of this is that the Yankees have committed only four fewer errors than Boston, but have given up 18 fewer unearned runs.

Breaking News: the Astros pick up Beltran. That's one fewer star that Steinbrenner can buy. Thank you, Astros!

Wal-Mart now faces a class action sex discrimination lawsuit filed by up to 1.6 million current and former employees. The suit charges that Wal-Mart discriminates against its female retail employees in pay and promotions. When reached for comment a Wal-Mart spokesman said "These allegations of sex discrimination are completely false. We treat all of our employees equally crappy."

I wanted to put my foot through my TV when I saw a report about two Army "soliders" named Jeremy Hinzman and Brandon Huey who have fled to Canada to escape serving in Iraq. This story wouldn't be so upsetting if these two Army Privates were merely cowards, afraid to do the job that they were trained for. The more disgusting part of the story is that these two slugs are living large in Canada while being treated like heroes for betraying their country. These two "men" have hired publicists, built a website and are attending anti-America rallies to delight of many of our neighbors to North. Even worse, the Canadian Government is apparently considering granting the two traitors asylum. I have a little bit of sympathy for the men who fled to Canada to escape the draft during the Vietnam Era. Those men did not sign up for the military. Privates Hinzman and Huey have been earning a paycheck paid for with taxpayer dollars. My dollars and yours. Their dereliction of duty also means that two brave men not scheduled to go to Iraq will be going in their place. The replacements, whoever they are, will be risking their lives so these two dirtbags can party and burn American flags with unscrupulous Canadians. Hopefully, the Canadian Government will do the right thing and kick Hinzman and Huey out of the country. If not, someone needs to drive up to Canada, throw them in sacks, and drag them back to the United States so they can be arrested and thrown in prison for the maximum penalty allowed. Not surprisingly, the deserters have support in America, including crypt keeper Susan Sarandon.

Phil Jackson will be leaving the Lakers. Unfortunately, he probably won't be leaving the NBA permanently. There is nothing in sports more tiresome than Jackson's constant whining about officiating to the press. The remarkable thing about Jackson's crying is that no coach in the history of sports has benefitted more from friendly officiating than Phil Jackson. Jackson won six championships in Chicago mainly because defenders couldn't get within two feet of Michael Jordan without being called for a foul. With the Lakers, Jackson won in 2000 and 2002 because of egregiously favorable calls against the Blazers and Kings in the Western Conference Finals. Jackson has won nine championships but six of those were won with the best player in NBA history and three more came with the most dominant physical presence in the last three decades. Maybe we'll get a chance to see if Phil can win without extraordinary talent.

When Gary Payton signed for $5 million at the beginning of the year, who would have guessed that he would end up being overpaid?

Los Angeles area hospitals witnessed a 7,000% increase in ankle injuries this season as Laker "fans" jumped off and on the bandwagon an average of once per week. The bandwagon is nearly empty now that Phil Jackson is gone, Kobe has opted for free agency and Shaq has demanded a trade. Hollywood elites are already lining up for Pistons season tickets.
June 8, 2004

It's hard to believe that were are already in Year Eight of Interleague play in Major League Baseball. It's even harder to believe that after eight years the Red Sox have still not played the Cubs. It's been frustrating that the Sox have been playing the Braves every year while the Yankees have been allowed to beat up on the lowly Mets. This year the Braves and Mets are both mediocre. Unfortunately, the Red Sox will have to play the Phillies while the Yankees have two series' with the Mets.

I still like Interleague play, but I think it needs to be scaled back from 18 games to six games with each team playing three games against its geographic rival (if one exists) and three games against a rotating opponent. The Yankees should always play the Mets. The Cubs should always play the White Sox. The Red Sox do not need to play the Braves every year. The other rivalries that should be played every season:
Blue Jays-Expos (if the 'Spos stay in Canada)
Orioles-Expos (if the 'Spos move to DC or Northern Virginia)
Mariners-Expos (if the 'Spos move to Portland)
Marlins-Rays (like anyone cares)
Astros-Rangers
Giants-A's
Royals-Cardinals
Reds-Indians
Angels-Dodgers

We are now a little over one-third of the way through the season and the Sox are 34-23, 2 1/2 games behind New York in the AL East and 1 1/2 games ahead of Oakland in the Wild Card race. The Red Sox are on pace for a 97-65 record. I would say that is pretty good considering that Trot Nixon, Nomar Garciaparra and Bill Mueller have missed a total of 135 games. Those three players all batted above .300 and combined for 75 homeruns, 277 RBIs and 286 runs last season. Surprisingly, it is Trot Nixon who has been the most sorely missed among the three injured players. Kevin Youkilis has played very well in Mueller's absence, scoring nearly one run per game with an on base percentage of nearly .400. Pokey Reese has been as good as Nomar, if not better, defensively and Mark Bellhorn has done a decent job filling Nomar's place in the lineup. Bellhorn has produced 70 runs (runs + RBI - HR) in less than 200 at bats. Gabe Kapler, though solid defensively, has been an automatic out. His .268 on base percentage is, as the commercial says, a travashamockery. Cesar Crespo, Brian Daubach and Ellis Burks have been even worse filling the vacated positions left by Nixon and Garciaparra. The Yankees have been healthy for the most part, so the Red Sox and Angels should be very happy to be close to New York in the standings despite being devastated by injuries.


I'm happy that so many Sox fans have traded in their classless "Yankees Suck" shirts for the more clever "Yankee Hater" logo shirts and caps. Yes, the Yankees do in fact "suck" but that doesn't mean that a person should display that message across their chest. Quite frankly, it seems like a thing that a New Yorker would do.

It was a major relief to see Pedro Martinez toss a gem tonight against the Padres. The Sox Ace improved to 6-3 with a 3.98 ERA after beating San Diego. One of the stats of concern is the number of homers that Pedro has been surrendering. Between 1999 and 2003, Martinez gave up a homer once every 18.3 innings (26.7 innings last season). Even with tonight's solid outing, Pedro is giving up a dinger once every 8.4 innings in 2004. I fully expect Pedro to take his customary stint on the DL sometime around midseason. This would be a smart move since Pedro is now on pace to make 35 starts and pitch about 220 innings. He's averaged 30 starts and 193 innings over the past two seasons.

We are now one step closer to CSI: Waltham with the debut of CSI: New York in the Fall. Gary Sinise will follow in the footsteps of William Petersen and David Caruso and star in the new series. Now that they have picked the city and the show's cast, the only thing left to do is choose which Who song will be used for the theme (following "Who Are You?" and "Won't Get Fooled Again"). Here are my odds:
Baba O'Riley: 3-1 (great intro)
My Generation: 4-1 (maybe the most well-known Who song)
The Seeker: 10-1 (title fits the theme)
Behind Blue Eyes: 12-1 (probably too slow)
I Can See For Miles: 15-1 (lyrics fit the theme)
I Can't Explain: 50-1 (they always explain by the end)
Sister Disco: 100-1 (someone will bet on it)

The Lakers pulled another rabbit out their hats tonight to even the Championship Series at 1-1 as the teams head to Detroit. The Lakers were down six points with 30 seconds left before making another miraculous comeback. I have followed sports for 25 years and cannot recall a team, in any professional sport, that has enjoyed a run of luck like the Lakers have had over the past two months. In the last game of the regular season, Kobe Bryant hit not one, but two prayer shots to give the Lakers the Division title and a better seed in the playoffs. In the first round series, Houston gave away two of the first four games of the series. The Rockets should have been up 3-1. Instead they were down 3-1 and lost Game Five. Against San Antonio, the Lakers somehow managed to score off of an inbound pass with 0.4 remaining on the fourth quarter clock to win the pivotal Game Five (and it was Derek Fisher of all people). Against the T'Wolves, the Lakers would have been history if not for an injury to Sam Casell. Even with Casell out of the lineup, the Lakers needed a once-in-a-lifetime game by Kareem Rush (6-for-6 from behind the three point line) to eliminate Minnesota. The Lakers would have had little chance to win the series if not for tonight's comeback. Kobe Bryant actually missed the key shot with 35 seconds remaining but Rasheed Wallace's foolish touch foul on Shaq's rebound and basket kept the fortunate Lakers alive.

I'm going to lose it if one more professional athlete "guarantees" a victory in the playoffs. It was brash when Joe Namath guaranteed a victory in Superbowl III. Nowadays, it's just plain stupid. I think the pro leagues should institute a rule that if a player guarantees a win and his team loses, he will be forced to sit out until the team actually wins.



I liked Michael Moore better the first time .. when he was called Jane Fonda.

Moore walked away with the top award at the Cannes Film Festival for his documentary Fahrenheit 9/11, a film based on about as much reality as two other big summer movies, The Day After Tomorrow and Spiderman. The cheese-eating surrender monkeys gave Moore's film a huge standing ovation. No American has been this popular in France since Jerry Lewis in his prime.

Speaking of America-haters. I wonder how long it will be before someone tries to force Major League Baseball to ban the playing of the National Anthem before games. I'm very shocked that no one has filed a lawsuit against one of the Major League Baseball teams that play "God Bless America" during the 7th inning stretch.

What is going on in the State in Florida? Between 1975 and 2002, the Florida pro teams combined to win just one championship (the Florida Marlins in 1997) in a combined 112 seasons. Granted, seven of Florida's eight teams were expansion teams during that time. Since the beginning of 2003, however, three teams from the Sunshine State in three different sports have hoisted the championship trophy - the Tampa Bay Bucs and the Florida Marlins in 2003 and the Tampa Bay Lightning this past week. Maybe the state's college football prowess finally rubbed off on the pros.
May 9, 2004

In my April 6th version of Random Notes I listed my Top Ten NFL Players to Root Against, in no particular order. Below is an updated list with one addition. Eli Manning's Draft Week stunt easily vaulted him into the top ten. Eli proved that he is a pampered, egotistical, spoiled brat by essentially declaring himself a free agent and announcing that he wanted to sign with the Giants. The Chargers drafted Manning but he refused to wear the Chargers cap on the podium after his name was announced. Not only was I disgusted by Manning's actions, but I wondered why in the world he would rather play in New Jersey than San Diego. I can only assume that Eli has never been to San Diego.
My new list also includes rankings – sort of. Leonard Little is now ranked #1 with the other nine players on the list tied for a distant second. Little killed a woman in 1998 while driving with a blood alcohol level twice the legal limit. Because he was an NFL star, he escaped with virtually no punishment for taking the woman's life (90 days in a workhouse and community service). Because the Rams organization has no class, they welcomed the talented Little back to the team and eventually rewarded him with an $11 million contract. It was bad enough that Little killed a person. It is worse that he was arrested for DWI last month. Clearly, Little has no intention of letting the well-being of other people get in the way of his boozing. Hopefully, the justice system will not be swayed by Little's celebrity status this time around and will lock him up for the maximum allowed by America's disgracefully lenient drunk driving laws. Eli Manning is merely a disgrace to the NFL. Leonard Little is a disgrace to the human race.
1. Leonard Little
2. Eli Manning
2. Jeremy Shockey
2. Terrell Owens
2. Keyshawn Johnson
2. Ray Lewis
2. Randy Moss
2. Bill Romanowski (will he play again?)
2. David Boston
2. Sebastian Janikowski

What a contrast between Leonard Little, a man who ended a woman's life and obviously isn't bothered by the possibility of doing the same thing again, and Pat Tillman, a man who gave up a multi-million dollar contract, his NFL career and eventually his life to hunt down Osama bin Laden and Company. Many pro athletes have done great things for society but none in recent memory has proved more honorable than Pat Tillman. Sadly, there are some fruitcakes out there that have chosen to disparage Tillman's sacrifice. Cartoonist Ted Rall referred to Tillman as an idiot and a sap in the May 3rd edition of his political comic strip. Rall believes that Tillman is an idiot for wanting to serve his country and bring justice to the perpetrators of September 11th. I can only hope that someday, Mr. Rall runs into some of Tillman's former teammates. Maybe then we'll find out who really is the sap. If you would like to see the cartoon, please click HERE. I hate to give Rall the publicity but it really doesn't matter at this point because either way he is going to make loads of money by exploiting Tillman's death.

I wonder who would win a battle between Orioles pitcher Buddy Groom and former Phillies outfielder Bake McBride?

I'm a big fan of Tim Duncan and I'm happy for all of his success. At the same time, it is painful to watch the man dominate the game and win Championships (he should add another this season). I literally fell on the floor of my living room on NBA Lottery Day in 1997 when the Celtics ended up with the #3 and #6 picks in the Draft where Duncan would no doubt be chosen #1. The futures of both franchises changed dramatically that day. Oh, what might have been.

I caught the last thirty minutes of the final episode of Friends last week. In case you missed it, Ross chased down Rachel at the airport to proclaim his love for her. As far as surprise endings go, that one ranks right up there with Rocky Balboa beating the Russian in Rocky IV.

Now that we have QuesTec is most Major League parks, I think it's time to start publishing umpire statistics in the newspaper and online. If a player is batting.220, everybody sees it on a daily basis. But, we never see which umpires are the best and worst behind home plate. The good umpires should be rewarded and the bad ones should suffer the same humiliation that a player does when his average dips near the Mendoza line. I'd love to see the home plate umpire's season stats (% correct calls, # of terrible calls) before the game and running stats within the game.

The most likely scenario in the NHL is that Tampa Bay and San Jose will meet in the Stanley Cup Finals. That means Florida against California for the world championship of ice hockey. Short of beer being banned, this has to be Canada's worst nightmare.

Has there been a good NBA Playoff game since Bird and Magic retired? The Pistons beat the Nets 78-56 last week. 56! Back in the 1980's the Celtics and Lakers would both have 56 before halftime. Could someone please teach these guys to shoot and pass?
April 6, 2004

UConn's path to the championship had to have been one of the easiest in the history of the NCAA Tournament. To begin with, the Huskies were placed in the weakest bracket – the West. In the Sweet Sixteen, Connecticut avoided a tough NC State team and instead faced the weakest #6 seed, Vanderbilt. In the Elite Eight, the Huskies received an even bigger break when they played #8 seeded Alabama, avoiding Stanford, Syracuse and Maryland. After finding a miracle to beat Duke, a tough national semi-final opponent, UConn received a final lucky bounce by getting a banged-up 3 seed Georgia Tech in the finals. With Tech star guard B.J. Elder rendered virtually useless with a sprained ankle, the Jackets more resembled a 5 or 6 seed. It is of course difficult to quantify which champions have had the easiest road but I have made the attempt to do just that. The following table shows the sum of opponent seed numbers for each champion over the past 13 years. For example, UConn's six wins came against teams with seeds of 15, 7, 6, 8, 1, and 3 for a total of 40. Ironically, it is not this year's UConn team, but the 1999 Huskies that had the easiest road to the title (since 1992).
| | | |
| --- | --- | --- |
| Team | Year | Opp Seed Total |
| Connecticut | 1999 | 45 |
| Arkansas | 1994 | 44 |
| Michigan St | 2000 | 43 |
| Connecticut | 2004 | 40 |
| Duke | 2001 | 40 |
| Duke | 1992 | 39 |
| Kentucky | 1998 | 38 |
| Arizona | 1997 | 38 |
| UCLA | 1995 | 37 |
| Maryland | 2002 | 36 |
| Kentucky | 1996 | 36 |
| Syracuse | 2003 | 34 |
| North Carolina | 1993 | 33 |

Boston College will join the ACC in 2005, which means that The University of Maryland and D.J. Strawberry (son of Daryl Strawberry) will eventually be playing a road game in Boston. Boston fans, are you ready? Deeeeeee-jay, Deeeeeee-jay. Deeeeeee-jay.

The Yankees are off to a 1-2 start after a second blowout loss to the Devil Rays. The question is: Will Joe Torre have a job in the morning?

Does anyone enter a Women's NCAA Basketball Tournament pool and not pick UConn over Tennessee in the finals? Of course, I'm assuming that NCAA women's basketball pools actually exist.


I'd like to thank the Oakland Raiders for making the deal for Warren Sapp. I've always wanted to root against Sapp, the obnoxious University of Miami product (is there any other kind of University of Miami product?), but really couldn't because the Bucs have been my favorite NFC team for a number of years. Now that he plays for the hated Raidahs, I am free to root against Sapp with reckless abandon. My thanks also go out to the Cowboys for acquiring Keyshawn Johnson. I hated Keyshawn as a Jet but tolerated him as a Buccaneer. As a Cowboy, Johnson will go back into my Top Ten NFL Players to Root Against list. Here's that list by the way (in no particular order).
Jeremy Shockey
Terrell Owens
Keyshawn Johnson
Ray Lewis
Randy Moss
Leonard Little
Bill Romanowski (will he play again?)
David Boston
Terry Glenn
Sebastian Janikowski

As my regular readers know, I love to rant about Hollywood egomaniacs that whine about the government and badmouth America. We've had spoiled brat Gwyneth Paltrow questioning America's motives while living on foreign soil, Sean Penn acting as a human shield to help the regime of Saddam Hussein, Michael Moore inventing stories to discredit the President and Alec Baldwin telling Conan O'Brien how a Republican Congressman and his family should be stoned to death (yes, that was five years ago but I still love to talk about it). These multi-millionaires sit in their high security mansions while telling the world that people earning $200,000 aren't paying their "fair share" in taxes. These hypocrites complain about the government's destruction of the environment while tooling around in their custom-made, 9 miles per gallon Hummers and Ferraris. They complain about the business practices and greed of American corporations as their $20 million per film paychecks send movie ticket prices soaring toward the $10 mark. Fortunately, the Hollywood set is not all bad. Actor Gary Sinise (Lieutenant Dan from Forrest Gump to most people) is helping to run Operation Iraqi Children, a non-profit program designed to allow Americans to send school supplies and boooks to Iraqi schoolchildren in need. Sinise has unselfishly taken time from his busy schedule to not only work on this project but to travel to Iraq and visit with these children. It is unfortunate that the major television networks and most of the newspaper media do not want Americans to have access to any of the good news coming from Iraq.

Will colleges follow the American trend and rename their degrees in Liberal Arts to degrees in Progressive Arts?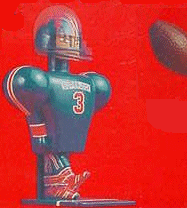 The Patriots upgraded at the punter position by signing former Steeler Josh Miller. Miller should greatly improve on Ken Walter's performance of last season. Then again, the guy pictured to the right would probably be an improvement over Ken Walter.
March 7, 2004

The Javier Vazquez for Nick Johnson trade proved beyond a doubt that Major League Baseball will do whatever it can to help the Yankees win another championship (three Nick Johnson's aren't worth one Javier Vazquez). More Yankee aid could be looming on the horizon as Expos second baseman Jose Vidro enters the last year of his contract. The only position on the field where the Yankees do not have an All-Star is second base and there is no doubt that this will bother George Steinbrenner. By midseason, the Expos will be hopelessly out of the race (they could be hopelessly out of the race by May) and New York will be ready to make a move for Vidro (if it doesn't happen sooner). This is bad news for the Red Sox, not only because the addition of Jose Vidro would make the Yankees even stronger but because the Sox themselves might be interested in Vidro if Pokey Reese doesn't work out. From a Red Sox perspective, the danger is not so much what the Yankees are now, but what they will be after the trading deadline in July. The 1999 Red Sox were in position to win the AL East and until Steinbrenner went on a midseason shopping spree.


I would think that the other 29 clubs in Major League Baseball would be reluctant to help Steinbrenner build his empire, but this has clearly not been the case. Major League Baseball (ie. the Expos), the Dodgers and the Rangers were all happy to hand the Yankees MVP and Cy Young candidates for 30 cents on the dollar (five cents on the dollar in the case of the Dodgers). The Rangers even agreed to pay 35% of A-Rod's salary for the next seven years. I didn't realize that the Yankee minor league affiliates were Texas (A), Montreal (AA) and Los Angeles (AAA). Some mindless Yankee boosters will claim that all is fair in the world because the Red Sox picked up Curt Schilling. This comment is moronic even for Yankee fans. First, New York traded Afonso Soriano and peanuts for two Cy Young caliber pitchers and one of the greatest players in baseball history. Second, the Red Sox gave up far more talent in Casey Fossum, Brandon Lyon and Jorge De La Rosa to get Schilling than the Yankees gave up to get Brown or Vazquez. In fact, the Yankees are better simply because Weaver is not on their roster.


What a job Boston College Men's Basketball Coach Al Skinner has done this year. The Eagles won their 21st game this week and will be heading to the NCAA Tournament. Not only did Skinner have to adjust to life without the greatest basketball player in BC history (Troy Bell) but just before the season started, he lost two other veteran starters (Ryan Sidney and Andrew Bryant). BC's prized recruit (Dan Coleman) decided at the last minute that he wanted to play college basketball in his home state of Minnesota. Skinner's only superstar (Craig Smith) has been banged up all season and his only other legitimate star coming into the season (Uka Agbai) missed nearly all of last season with a serious neck injury. Starting Guard Louis Hinnant missed time with injury and has been far from 100% when he has played. Add to this the fact that Skinner had to deal with anti-BC officiating in the Big East on several occasions. As we have seen on the football field, the Big East is determined to punish BC for fleeing to the ACC. The top of Skinner's regular rotation this season included three low profile freshmen, the Sophomore Hinnant, a rusty Agbai, and Smith yet the Eagles have won 21 games despite playing one of the 40 toughest schedules in America. Al Skinner's Eagles have now won 87 games (and counting) over the past four years. The Eagles are 41-23 in Big East play over that time. They will be heading to the NCAA Tournament for the third time in four years (it should be four years in a row). Not bad for a program that was an unmitigated disaster seven years ago when Skinner took over.

Thanks to hands-free cell phone technology, I'm seeing more and more people walking around in public seemingly talking to themselves. It's getting tougher to tell the crazy people from the obnoxious ones.

Sports Illustrated "Enemy of the State" update: George Steinbrenner wins in Florida and Alaska bringing the number of states he has "won" to five. The amazing thing is that these Sports Illustrated polls took place before the A-Rod trade. Rumor has it that some Floridians may have inadvertently voted for Pat Buchanan. Steve Spurrier will challenge the results. To check out the SI state profiles, please click HERE (note, not all states have been featured in the magazine as of this week).

This week's sign of political correctness gone mad. From The Week magazine:
Schools in Nashville have stopped posting honor rolls so as not to hurt the feelings of underachieving students. After several parents complained that the honor rolls were embarrassing, lawyers warned that the school district could be sued under a law that bars schools from releasing academic information without permission.
I guess I missed the memo declaring that competition is a bad thing. Maybe newspapers in Tennessee shouldn't be publishing the NBA scoring leaders. By their thinking, isn't that hurting the feelings of the guys not among the leading scorers?

Speaking of political correctness gone mad, I'm predicting that within two years professional athletes will be getting fined for mentioning God or Jesus in postgame interviews. There exists a collection of wackos whose hostility against people of religious faith is growing by the minute and one of them will soon figure out a way to sue the NFL or NBA when one of its players uses the "G-word." This would be unfortunate, not only because it would be another victory for the legion of pathetic losers that are offended by everything from the word "God" to the American flag, but it would end high comedy interviews like the one Trot Nixon gave to ESPN after his game-winning homer against the A's in Game 3 of the ALDS. According to Trot it was Jesus, not Nixon himself that hit the dramatic homerun. If that's true, I hope that Jesus hits better against lefthanded pitchers this season.

In the latest example of deplorable anti-Americanism, Mexican fans at a recent USA-Mexico soccer game in Guadalajara repeatedly chanted "Osama" to taunt the American players, who lost the game 4-0. Is it time to put Mexicans on the growing list of foreign ingrates? America employs close to eight million Mexicans who have illegally crossed the border into the US. We could deport these people but instead we give them jobs and ignore the fact that they are breaking our laws by living in this country. What thanks do we get? They make light of the tragic deaths of 3,000 Americans. Absolutely sickening. I am hopeful that the scumbags who chanted Osama bin Laden's name are not representative of the majority of Mexican citizens.

Speaking of Osama, many people are wondering when we will capture him. Is it possible that he has already been captured? If the Republicans have him, he will be brought into custody the week before November's Presidential Election. If the Democrats have him, he will be brought in the week after the November Election.
February 1, 2004

For the first quarter and a half, Superbowl XXXVIII looked like it would be the most uneventful Superbowl in history and a game only a defensive coordinator could love. By the end, this was one of the most exciting Superbowl games in NFL history. Tom Brady actually led the Patriots on two game-winning drives in the final five minutes of the game. Unfortunately, the defense nullified the first of the two drives leaving it up to Brady and Company to go down the field in the final minute to set up Vinatieri for the game-winner.

Here are some of my favorite statistics from Superbowl XXXVIII:
The Panthers put some pressure on Tom Brady but had no sacks despite the fact that the Patriots best offensive lineman, Damien Woody, was out with an injury (how does that crow taste, Warren Sapp?)
There were 0 total points in the first 26 minutes of the game, 62 points in the final 34 minutes.
All 62 points were scored in the even-numbered quarters.
Jake Delhomme began the game 1-for-9 for 1 yard but was 15-for-24 for 322 yards in the final 27 minutes of the game.
With the exception of one big run each by Stephen Davis and DeShaun Foster, the Panthers rushed for 37 yards on 14 carries (2.6 yards per rush). If you take away the longest runs by Antowain Smith and Kevin Faulk, the Patriot backs combined for 102 yards on 30 carries (3.4 yards per rush).
The Patriots had 480 total yards of offense and amassed 28 first downs.

There were many similarities between today's game and the Superbowl victory over the Rams in January of 2002. In both games, the Patriots defensive dominated the opponent for three quarters but couldn't stop anyone in the fourth quarter. In both games, Ricky Proehl scored the game-tying touchdown with just over one minute remaining only to have Tom Brady move the ball down the field for an Adam Vinatieri field goal with under ten seconds left in the game.

I hope the Superbowl victory puts an end to the talk that the Patriots are a lucky team. There is no doubt that the Patriots received more than their share of breaks to reach the Superbowl two years ago but this year's team was far and away the best team in football, even with all of the injuries.

I thought that the Superbowl officiating was very solid. The only exception was the non-fumble call on the catch by Mushin Muhammad. I was able to make a sandwich in the time between the catch and the ball coming loose.

Although the comparisons of Tom Brady to Joe Montana are very premature, Brady took a giant step in Montana's direction on Sunday. At 26, Brady's numbers are very impressive: 40-12 as a starter, 6-0 in the Playoffs, 7-0 in overtime, two last minute game-winning drives in the Superbowl, two rings and two Superbowl MVP trophies. Montana won four Superbowls and three Superbowl MVP Awards.

There is no question that in a do-or-die game, I have more confidence in a Patriots team that is losing than a Red Sox team that is ahead. Today's game was stressful, but I remained confident that the Patriots would get it done. Despite his troubles, I felt that Adam Vinatieri would make the game-winning field goal.

Believe it or not, the Patriots could be a better team next season. They have four choices in the first two rounds of the NFL Draft and will hopefully have a healthy Rosevelt Colvin back in the lineup. On the down side, Ty Law could join Lawyer Milloy as a salary cap casualty.

Here is an update of the numbers that I mentioned in the last version of Random Notes:
The Patriots are 35-9 since losing to the Rams in Week 11 of the 2001 season.
The Pats are 19-3 at home over the same time period.
Most incredibly, the Pats are 22-2 after November 16th over the past three seasons.
The Patriots became only the second team in NFL history to win 15 consecutive games (including the playoffs) in a single season. The other team was the 1972 Miami Dolphins who were a perfect 17-0.

The Patriots have now won 12 consecutive regular season games. The record for consecutive wins in the regular season is 17, held by the 1933-34 Chicago Bears. The Patriots would break that record with a 6-0 start in 2004. The record for most consecutive wins (playoffs included) is 18, held by four teams: the 1989-90 49ers, the 1972-73 Dolphins, the 1941-42 Bears and the 1933-34 Bears. A 4-0 start next season would give the Patriots that record.
January 23, 2004

The Patriots have now won 12 consecutive regular season games. The record for consecutive wins in the regular season is 17, held by the 1933-34 Chicago Bears. The Patriots would break that record with a 6-0 start in 2004. The record for most consecutive wins (playoffs included) is 18, held by four teams: the 1989-90 49ers, the 1972-73 Dolphins, the 1941-42 Bears and the 1933-34 Bears. A Superbowl win and a 4-0 start next season would give the Patriots that record.

How good have the Patriots been? Here are the numbers:
The Patriots are 34-9 since losing to the Rams in Week 11 of the 2001 season.
The Pats are 19-3 at home over the same time period.
Most incredibly, the Pats are 21-2 after November 16th over the past three seasons.
The Patriots became only the second team in NFL history to win 14 consecutive games (including the playoffs) in a single season. The other team was the 1972 Miami Dolphins who were a perfect 17-0.

The Carolina Panthers remind me a bit of the Superbowl Champion Patriots of two years ago. The Panthers play very solid, tough defense. Their offense is not prolific, but they can control the ball and seem to get better late in the game. They are also very well-coached. I think that the Patriots will win (I'll guess 23-13) but I think the Panthers will be a much tougher challenge that the overrated Eagles would have been.

ESPN reported on Tuesday that the A-Rod for Manny Ramirez trade talks have been rekindled. I refuse to be fooled again. We were teased more than enough the last time around.

Reliever Jesse Orosco announced his retirement this week. Now he can sit back with his great grandchildren and reminisce about the time he struck out Babe Ruth and Lou Gehrig in the same inning.

After accepting millions of taxpayer dollars to build a new retractable-roof ballpark in Milwaukee for the Brewers, the club has announced that they will trim the team's payroll from a measly $40 million in 2003 to a pathetic $30 million this season. Taxpayers were promised that a new ballpark would enable the franchise to increase revenues and put a more competitive team on the field. Absolutely sickening.

Every few years, Major League Baseball owners will promise to bring more fiscal responsibility to the game. After the strike was settled in 1995 the owners began offering shorter contracts for smaller dollars but as usual that didn't last long. By the end of the decade, players were getting deals of five or more years for two to three times as much per year as they received in the early 1990's. During this off-season, the owners again promised to spend responsibly. Unfortunately, there is always at least one idiot organization that can't control itself and throws the market out of whack by overpaying. In 2000, it was the Rangers and the Red Sox. In most other years it is the Yankees. This year, the idiot organization was the Baltimore Orioles who signed Miguel Tejada to a six-year, $12 million per year deal despite the fact that the other suitors were offering three to four years in the neighborhood of $9 million per year. This hurts the Red Sox because it will make it harder for them to sell their four-year, $12 million per year offer to Nomar Garciaparra. I don't appreciate the excessive greed of the players but it is more infuriating to see the owners making the same mistakes year after year.

As bizarre as the Mars Rover looks, it is still a more attractive vehicle than the PT Cruiser.



I sincerely hope that Vin Baker wins his battle with alcohol addiction, but he will not get any sympathy from me until he agrees to void his contract. So far Baker has been paid $20 million by the Celtics for about 20 decent "on the wagon" games. I assume that the Player's Association will argue that Baker deserves $14 million per year to drink himself out of the game. It's very sad that Baker has this difficult problem, but it is even sadder that he doesn't have the pride to give back the money that he has stolen from the Celtics.

I would have loved to have seen the look on Jake Delhomme's face when he saw Tom Brady sitting in the President's VIP box at the State of the Union address. Even better, I would have liked to have seen John Kerry's face when he saw Brady in the President's box. About the only thing that could diminish Brady's popularity in Massachusetts is an admission that he is a Republican.

Ted Kennedy was repeatedly shaking his head from side to side during the President's speech. I couldn't tell if he was showing his disagreement or if he was still feeling the impact of Happy Hour.

It is customary for members of the opposition party to applaud the President during the State of the Union address. Hillary Clinton's theatrical clapping and exasperated facial expression reminded me Mike's response in Swingers after the old lady hits 21 at the low stakes blackjack table.

The Democratic Debate on Thursday was not nearly as entertaining as I had hoped it would be. Only Al Sharpton was able to provide some comedic moments. I think these debates would be much more interesting if the candidates were given sodium pentothal prior before heading to their podiums. It would be great to hear an honest answer for a change.

The low point of the debate occurred when General Wesley Clark responded to a question about Michael Moore referring to the President as a 'deserter' by saying that ".. I am delighted to have the support of a man like Michael Moore .." It is disappointing that a decorated General would not condemn Moore for tossing around baseless accusations about the Commander in Chief. General Flip-Flop would be well-advised to distance himself from the fat, slovenly traitor. If there were ever another military draft, I would be willing to bet my car that Michael Moore would be the first person to reach the Canadian border.

Has anyone ever seen this guy -->

and this guy -->

in the same place at the same time?
January 4, 2004

I am thankful that the Alex Rodriguez saga is finally over (or so it seems). Initially, the trade talks were very intriguing but over time the endless negotiating, posturing and pseudo-deadlines became unbearable. A-Rod for Manny Ramirez was a trade that should have happened, but did not happen because the negotiations involved too many egos. This trade likely would have helped four teams, at least two players and Major League Baseball as a whole. The Rangers could have relieved themselves of $85 million in future obligations to Alex Rodriguez. The Red Sox could have acquired the league's best player and rid themselves of a malcontent in Manny Ramirez. The White Sox could have dumped salary and bolstered their pitching staff. The Dodgers could have added the offensive punch that they desperately need in the person of Nomar Garciaparra. Manny Ramirez would have been able to leave Boston and play in a low-pressure environment in Texas and A-Rod would have been playing for a winning team. Major League Baseball would clearly have benefited from having the league's best player in one of the major media markets instead of being lost in Baseball Siberia. There are a lot of people that should be ashamed of themselves for not allowing this trade to take place.
Shame on the Major League Baseball Player's Association for not doing what was in the best interest of the player. Alex Rodriguez agreed to the restructuring, yet the MLBPA selfishly squelched his wishes. The money lost in the restructuring would have been easily recouped with A-Rod's additional endorsement power. Then there is the fact that he would have been happier playing for a winning team in Boston. Clearly, the restructuring would have no ripple effect for other players in the league because no one will be getting an A-Rod type of contract in the near future (if ever). In fact, this deal would have helped the other players in the league because having A-Rod in a Sox uniform would draw more attention to the sport, which benefits all players down the road. The disgusting part of this is that the Player's Association knows all of this, but they don't care. They refused to do what was best for the player involved and the league because they feel an obligation, above all else, to screw the owners whenever possible. Common sense, the well-being of future generations of ballplayers, the fans and the health of the game is of secondary importance when an opportunity to stick it to a couple of rich owners arises.



Shame on Texas Rangers Owner Tom Hicks for asking the Red Sox to pay $25 million of Manny Ramirez's salary over the next five years. The Rangers would have saved around $85 million by making this trade, yet they had the nerve to ask for more money. Hicks argues that because Rodriguez can opt out of his contract four years from now, the Rangers really aren't saving $85 million. There is no guarantee that Rodriguez, who will earn around $27 million per year between 2008 and 2010, will opt out of the contract. He may not be willing to take a huge pay cut, which is likely because superstar salaries appear to be on the decline and A-Rod will likely be past his prime in 2008.



Shame on the Red Sox for not making a counter-offer to Texas' offer to reduce the subsidization of Ramirez's salary from $25 million to $13 million. Had the Red Sox come back with a counter-offer of around $7 million, the Rangers may have settled for $10 million. That would be about $2 million per year over the remainder of Manny's contract. I can understand that the Sox do not want to pay the salary of an opposing player, but in this case I think it would have been worth it. By the end of the negotiations, the Red Sox were past the point of no return and had to make this deal at any cost. Now it is possible that the Sox will find themselves without a shortstop in 2005.



Shame on the Red Sox for not ending the trade talks when Texas asked for $25 million. Shame on the Sox for thinking that the Player's Association would do the right thing and agree to the restructuring.



Shame on Nomar Garciaparra and his agent Arn Tellem for rejecting the Red Sox four-year, $60 million extension offer in the Spring. Nomar is not the player that he was before the wrist injury. That was a good deal and one that he is not likely to see again from the Sox or any other team. Nomar feels betrayed, but it is his own fault for rejecting that offer. I did not think that Nomar would be greedy where the extension was concerned. I was wrong.



Shame on Manny Ramirez for being a gutless, whiny ingrate. This trade was proposed not so much because the Red Sox want Rodriguez, but because they want to get rid of Ramirez. Manny's behavior last season (openly proclaiming his love for the Yankees, missing four games because of a sore throat) prompted all of this. The Sox didn't land Rodriguez and now they may lose Nomar at the end of 2004. The fact that Ramirez was so willing to go to Texas shows how little Manny cares about winning. It's giving me a migraine thinking that we may be stuck with him for another five years.

Clearly, the Red Sox would have been in better shape heading into the 2004 season with Alex Rodriguez and Maglio Ordonez than they will be with a newly digruntled Nomar Garciaparra and an always disgruntled Manny Ramirez. But, will this ruin the Sox clubhouse karma? I doubt it. No one takes more pride in his game than Nomar and I am confident that, upset or not, he will give nothing short of 100% effort in 2004. The fact that Nomar is playing for a contract won't hurt either. Manny's attitude is poor at best. He seems completely unconcerned with winning and doesn't have the pride in his game that Nomar possesses. The good news is that Manny is not a disruptive personality like Carl Everett. He gets along well with his teammates and should be fine with Terry Francona. There is also hope that Manny will refocus now that his dream to play with the Yankees has been shattered. I'm sure that the Sox will order better throat lozenges for the clubhouse next season.

I, for one, am thrilled that the Yankees picked up Kevin Brown and Gary Sheffield. The Yankees-Red Sox rivalry is so much more fun when the Yankees have some undesirable personalities. The 1998 Yankees weren't as much fun to root against because they had a core group of players (Derek Jeter, Bernie Williams, Mariano Rivera, Andy Pettitte and Jorge Posada) that were hard not to like. I was concerned that the 2004 Yankees might be equally likeable after losing or getting rid of Karim Garcia, Roger Clemens and David Wells. But Gary Sheffield and Kevin Brown give the Yankees two of the biggest jerks in the game. Red Sox fans can take joy in the fact that both of these clowns have the potential to ruin the Yankee clubhouse. Bullpen attendant assaulting Jeff Nelson will also be there in 2004, assuming that he can stay out of the pokey.

No one stuck a foot in his mouth more often in 2004 than New York City Mayor Michael Bloomberg. In October, he publicly stated that Pedro Martinez should have been arrested for deflecting the charge of Don Zimmer. Since then he has made references to the New York Giants cheerleaders (the Giants don't have cheerleaders) and talked about Yankee Manager Joe Torrez. I feel bad for the people of New York City. Going from Rudy Giuliani to Bloomberg must feel like breaking up with Heidi Klum then dating Rosie O'Donnell. Michael Bloomberg is a role model for some, however. He is living proof that a person with an IQ under 50 can become a billionaire.

The college bowl season ends tonight with the Sugar Bowl. Here are a few more ideas for bowl matchups:
Air France Delusions of Grandeur Bowl - Notre Dame vs UConn
Master Lock Parole Bowl – Ohio State vs Kansas State (also called the Fiesta Bowl)
E! Television No Book Lernin' Bowl – West Virginia vs Nebraska
Lord of the Rings 30 and Living at Home Bowl – Cal Tech vs MIT
Intel Celeron We Belong in Division 2 Bowl – Rutgers vs Vanderbilt
Enron How the Mighty Have Fallen Bowl – UCLA vs Penn State
Rawlings Football Kills Time Before Basketball Season Bowl – Duke vs Arizona
Jack Daniels Get Drunk and Make a Fool of Yourself Bowl – Alabama (Honorary Captain Joe Namath) vs Alabama (Honorary Captain Mike Price)

I wonder how many people got up to adjust the color on their television when the Humanitarian Bowl – played on the blue turf in Boise, Idaho – started. I know there are 28 bowls, but should a game between Tulsa and 6-6 Georgia Tech held in Boise, Idaho be played after the Rose Bowl?

The NCAA is reluctant to go to a playoff system for Division 1-A football in large part because they want to preserve the tradition of the bowl games. But haven't they already ruined the tradition by playing ten bowl games on or after January 1st? It was once considered an honor to play on New Year's Day. At least the Big Ten and Pac Ten Champions were able to meet in the Rose Bowl on New Year's Day this year. Any anti-playoff arguments citing bowl tradition became foolish in 2002 when Miami and Nebraska met in the Rose Bowl on January 3rd.

We will have a split National Championship this year, despite the existence of the BCS. Does this get us any closer to a playoff system? Don't count on it. The NCAA relies on common sense about as much as the Major League Baseball Player's Association.

The teams in the new ACC (including Virginia Tech, Boston College and Miami) were 7-2 in bowl games this year (6-1 if you exclude the Miami-Florida State game). Virginia Tech was the only loser, falling in overtime to Cal, 52-49.

A Big East officiating crew will work tonight's Oklahoma-LSU Sugar Bowl game. I wonder if they will try to call holding on Boston College.

If you go to Google and type in the words "miserable failure" and hit the "I'm Feeling Lucky" button (which directs you to the #1 site on Google's list), you will end up with George W. Bush's bio at whitehouse.gov. At the request of several liberal-based websites, bloggers typed in the President's name in the same sentence with "miserable failure" on Google enough times to force the Bush bio to the #1 spot. If you type the words "pathetic loser" I wonder if Google will direct you to a list of the people that spent all those hours on the keyboard to achieve this effect. I guess the people that waited in line overnight to be the first to see the new Lord of the Rings aren't at the top of the get-a-life pyramid after all.

How good have the Patriots been? Since losing to the Rams in their tenth game of 2001, the Pats are 32-9 overall and 17-3 at home. They are 19-2 over the past three years after November 20th.

The Patriots have become a winning franchise because they have strength from top to bottom in the organization. They have talented players with a desire to win, a coaching staff that is always well-prepared, decision-makers that have chosen the right players that will fit into their system and an owner that is willing to do what it takes to win. Best of all, the Patriots have become winners while maintaining a team whose players rarely shame the franchise with on or off the field antics. Bob Kraft has never tolerated criminals or showboats - unlike most NFL teams - and I applaud him for that.

Of those four key components – players, coaching, general manager/personnel and owner – the Red Sox had three areas covered last season. Hopefully, Terry Francona will fill that one void this year. The Celtics are in disarray because they are weak in all areas except coaching. For years, the Bruins were strong in all areas below the ownership level. Now they appear to be taking the oh-for-four.

ABC will soon be televising Celebrity Mole Yucatan, a follow-up to last season's Celebrity Mole Hawaii. Contestants include Tracy Gold, Keisha Knight-Pulliam (aka Rudy Huxtable), Stephen Baldwin and Corbin Bernsen. Ahmad Rashad will host the series. I understand the mole concept, but I'm having a hard time figuring out where the "Celebrity" part comes from. Shouldn't celebrity status be good for a certain number of years, like a patent? Stephen Baldwin isn't even a celebrity in his own family.

Notes Archive
2006-2007
2005
Superbowl XXXIX
2004
Superbowl XXXVIII
2003
NFL Sunday
2002
2000-2001

March Madness
Red Sox
Patriots